Australian radio DJ Dee Dee Dunleavy sparked outrage on social media after implying women should not buy chef Nigella Lawson's books until she "makes a stand on domestic violence".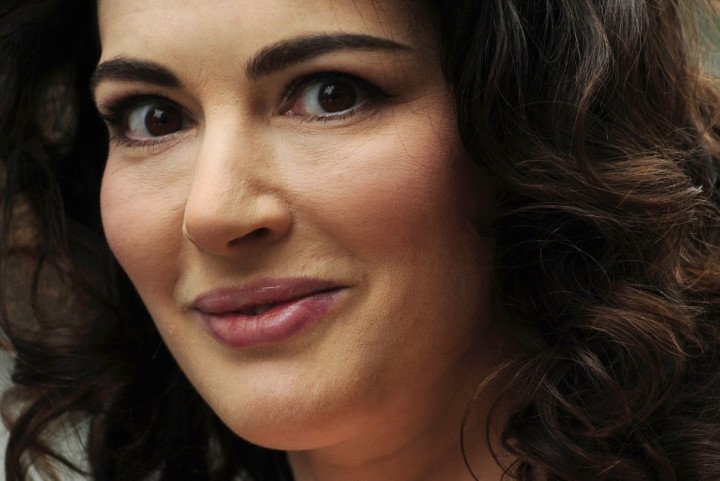 The Sunday People recently published photographs of the 53-year-old television celebrity being semi-throttled by her billionaire husband Charles Saatchi, at a Mayfair restaurant. Since then, Saatchi and Lawson have reportedly left each other and their marital home and the former has described the incident as a "playful tiff".
Meanwhile, over in Australia, radio presenter Dee Dee Dunleavy has written a note on radio station 3AW's blog, titled: Nigella, we don't like to think of you cowering from a thug.
"We don't like to think of you cowering from a thug. A man so boldly abusive he had no qualms about attacking you in public," she wrote, adding, "Nigella, like it or not, you're a beacon for women from all walks of life. If you want us to buy your books and watch your shows on how to run our kitchens, then we need you to make a stand on domestic violence."
Dunleavy also accused Lawson of deflecting the gravity of the situation and trying to take focus away from the photographs circulating online, with images of food.
"Why, at about the same time the pictures went viral on the internet, did Nigella post a picture of a buttered, toasted bagel on her official Twitter page, as though nothing else was on her mind but food?" she pointed out.
Unfortunately for Dunleavy, while her intensions may have been good, the fall-out of her comments has been anything bit. Twitter responded swiftly, with users criticising the DJ for victimising the victim.
"@MissBelleM Oh Dee Dee Dunleavy, you've let down women everywhere. Victimising the victim? For shame."
"@survivingana Easy to see Dee Dee Dunleavy has never had to live in a domestic violent situation. Easy to say call police. Wish it was the easy."
"@Tally_Lewis So we should all boycott a victim of abuse according to Dee Dee Dunleavy #SHAME."
"@serenaeryan Wonder if Dee Dee Dunleavy would feel like being a poster girl for DV if her partner throttled her in public? Would that be her 1st thought?"
The reactions prompted the Australian to issue a statement shortly after, claiming she had been misinterpreted.
"I would like to make an important clarification. I was not calling for a boycott of Nigella's books," she said, "Clearly, I didn't make my point well. My point was that Nigella is, by her own making, an admired public figure. She has become this by having successful cooking shows and books, and as such she has our attention. We are watching for her reaction. I believe that she should file a complaint with police."