Nigerian terror group Boko Haram have "completely surrounded" the northeastern city of Maiduguri, the capital of Borno state, tribal elders have warned.
The Borno Elders Forum (BEF) issued a statement that warned the military needed to "fortify" the city as soon as possible to prevent an attack by the group "from all directions". They added that the militants had "annexed" areas 50km (30 miles) from the city.
The government is yet to comment on the statement issued by the group, which includes influential figures within Borno such as government ministers and civil servants.
"We are convinced that the Federal Government of Nigeria has not shown sufficient political will to fight Boko Haram and rescue us from the clutches of the insurgents which may ultimately lead to the total annihilation of the inhabitants of Borno," BEF said.
"The insurgents have rendered impassable almost all the roads leading to Maiduguri," it added.
"The insurgents have surrounded Maiduguri and are nursing the ambition of attacking the city from all directions."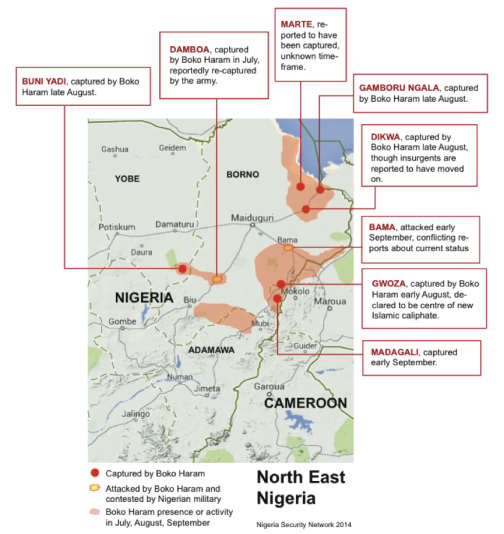 Experts from the Nigeria Security Network (NSN) last week warned that Boko Haram is plotting a major offensive on the city in similar fashion to the Islamic State's capture of Mosul.
"Unless swift action is taken, Nigeria could be facing a rapid takeover of a large area of its territory reminiscent of Isis's lightning advances in Iraq," their report, entitled North-East Nigeria On The Brink, claims.
"If Maiduguri falls, it will be a symbolic and strategic victory unparalleled so far in the conflict."
The group has captured towns and villages around the city such as Damboa, Gwoza and Bama, the latter of which the Nigerian government now claims to have recaptured.
Nigerian President Goodluck Jonathan, who is seeking re-election in February next year, has been increasingly criticised for his inaction against the terror group.
In April, Boko Haram kidnapped more than 200 schoolgirls in the village of Chibok, bringing global attention to the west African nation's fight against terrorism.
Three states – Borno, Yobe and Adamawa – have been under a state of emergency since May last year.
According to Human Rights Watch, the militants have killed at least 2,053 people since the beginning of 2014.