Nigeria: Refugee crisis will be '10 times worse' if Biafrans' grievances not acknowledged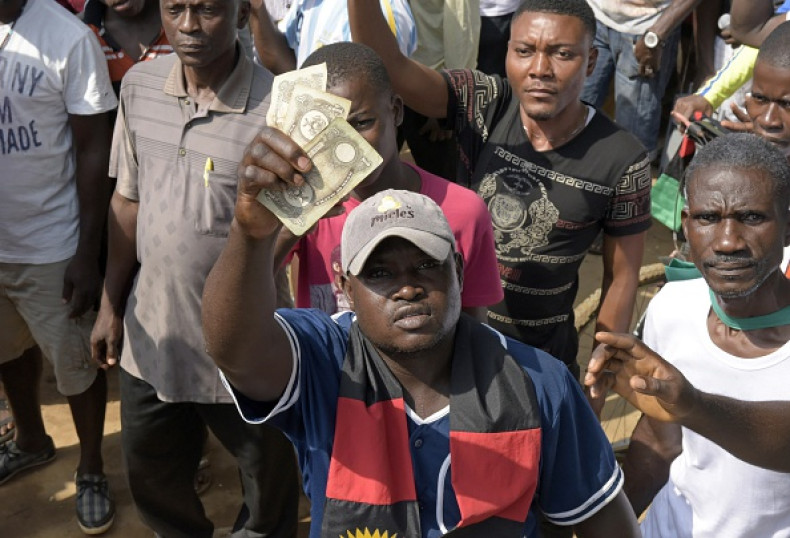 The Organisation of Emerging African States (Oeas) has warned the ongoing refugee crisis will worsen unless the Nigerian government pays attention to pro-Biafrans' "legitimate grievances". The Washington-based NGO, which fights to achieve "true freedom" in Africa, added that Nigeria's decision to ignore pro-Biafrans' struggle for independence might pose a serious threat to peace and security in the African nation and might prompt millions of people to flee.
Pro-Biafrans call for the independence of the contested Biafran territories forcibly annexed to Nigeria during the British colonisation, ended in 1960. A Biafran Republic was established in 1967 and reannexed to Nigeria in 1970, following a civil war that claimed between one and three million lives.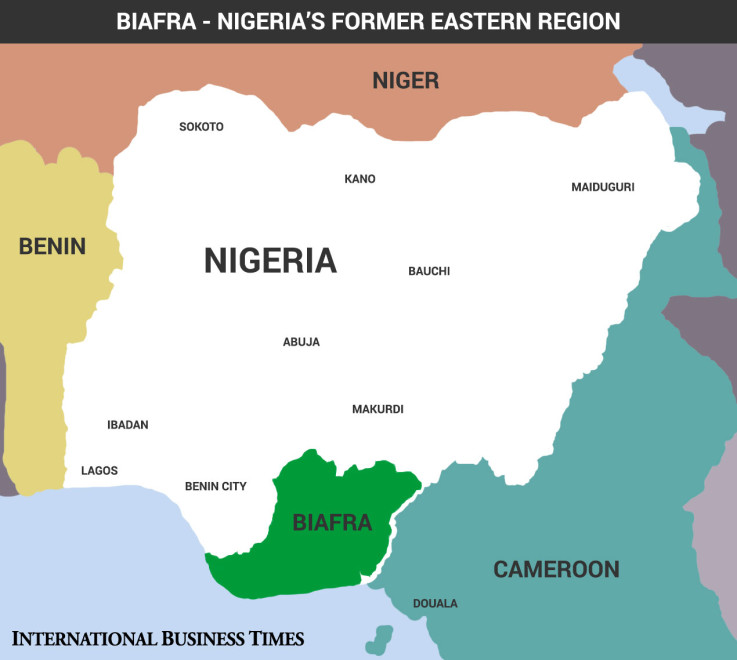 The Eastern Region - a former federal division of Nigeria with capital Enugu - gained independence following two coup d'etats in 1966 and 1967
IBTimes UK
Dr. Ebenezer Derek Mbongo Akwanga, Oeas' secretary general, told IBTimes UK: "Europe has failed to realise that there are very serious internal dynamics in Africa that will cause refugees to travel to Europe."
Akwanga made the comment days after the Indigenous People of Biafra (Ipob) announced pro-Biafrans had "activated" their right to self-defence following alleged prolonged violence by Nigerian forces against peaceful protesters. The announcement was made as footage purportedly showing Nigerian security forces attacking pro-Biafran protesters during a demonstration in Aba state on 9 February was widely circulated on social media. At least 10 deaths were reported during the rally.
"Biafrans are being killed and the government is not doing anything, while the international community only talks about Syria. Is it because Biafrans are black people?" Akwanga, who is also the leader of the Southern Cameroons Youth League (SCYL), alleged.
When asked whether pro-Biafrans were acquiring weapons to "activate" their self-defence, Akwanga said: "It is easy to buy arms in Nigeria, especially in the Niger Delta region. Nobody wants to see another civil war in Nigeria. This time, if there is a war, Nigeria will not win because it is already dealing with Boko Haram in the north and the Niger Delta militants. Biafrans have legitimate grievances they are prepared to die for, and this is what the Nigerian government should take into consideration."
Although the Biafra issue has been addressed individually by some MPs in the UK and the European Union, Oeas believes the international community has not dealt with the problem extensively.
"The international community is silent because it does not want to deal with countries' internal issues, but the world is a global village and, today, there is no such a thing as internal issues,"Akwanga said. "The international community should recognise its mistakes during the colonisation ."
Nnamdi

Kanu

, referendum and reconciliation
Oeas urged the Nigerian government to release political prisoners including Ipob leader Nnamdi Kanu – who is standing trial on treasonable felony charges – set up a peace and reconciliation committee and let pro-Biafrans peacefully organise a referendum on independence.
Solicitor and Oeas' chief administrative officer, Jonathan Levy, told IBTimes UK: "Under the African charter, all people in Africa have a right to self-determination both political and economic. That does not mean that they can just declare a country, there has to be a legal means. We suggested a referendum, such as the one held in Scotland or Czechoslovakia.
"However, Biafrans need the cooperation of the Nigerian government to hold a referendum," he continued. "We are calling on Biafrans to continue with demonstrations and civil disobedience until the federal government cooperates."
Levy also added Oeas urged pro-Biafrans to "form armed units to defend themselves" against alleged violence at the hands of security agencies, who have always denied they are violent against pro-Biafrans.
"What we mean by self-defence is not to attack people," Jonathan said. " No-one expects the Biafrans to have large amounts of weapons, but they do need to get organised and try to mitigate some of the casualities they are suffering. If a civil war occurred in Nigeria, the ongoing refugee crisis would be 10 times worse than the crisis we are seeing in Syria."
Buhari's position
The government of Nigerian President Muhammadu Buhari has always maintained that Nigeria's unity is a priority for the country and that although peaceful pro-Biafran protests are welcome, demanding the breakaway of the Biafran territories is against the constitution.
The Nigerian government told IBTimes UK that it does not consider the separatist movement a threat to the current leadership, and defined pro-Biafrans as an "insignificant number of frustrated people who are not a threat to the existence of Nigeria".
In several interviews with IBTimes UK, the army and the police denied allegations of violence during pro-Biafran protests, arguing that security forces had to intervene as pro-Biafrans "were armed and disrupted peace in the state".
IBTimes UK contacted security forces for a comment on the video related to the 9 February protest in Aba, but has not received a response at the time of publishing.
---
Nigeria up close: Check out our Flipboard magazine
---