The Nigerian Air Force (NAF) has destroyed barges and canoes "carrying stolen oil" as part of its effort to thwart oil theft in the Niger Delta region. Officials said two barges and two canoes were used by oil thieves to carry stolen petroleum products in Rivers State, southern Nigeria.
"The latest operations showed that illegal bunkering activities have resumed around Bille and nearby. Nevertheless, the NAF will not relent in its pursuit to put an end to these acts of economic sabotage by ridding the region of these criminal elements," the force said in a statement on its official Facebook page.
Oil bunkering is common in the oil-rich Delta region, which has been marred by violent attacks carried out by militant groups.
Earlier this year, President Muhammadu Buhari said the Nigerian government would invest $10bn (£8bn) in the Delta to build infrastructure and put an end to the militant insurgency in the area.
The announcement came as attacks on oil pipelines, carried out mainly by the Niger Delta Avengers (NDA) group, have brought Nigeria's oil production to a 30-year low. The group, which says it fights to end disenfranchisement of impoverished communities in the Delta and obtain greater shares of oil revenues, vowed to bring the country's oil production "to zero".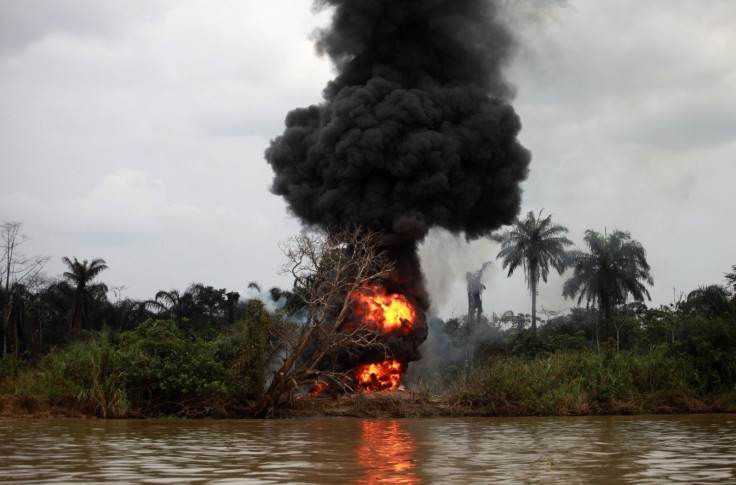 Birth of militants in Niger Delta
Militant groups in the oil-rich Niger Delta region took hold in the early 2000s following the deterioration of living conditions blamed on the increase of oil-related activities by foreign exploration corporations.
Tensions flared up in the local communities as some ethnic groups felt they were being exploited and did not benefit from the crude oil on their land.
The repeated oil spills that considerably damaged the environment and affected people's health further deepened the communities' frustrations.
After being elected in 2015, Buhari extended a 2009 amnesty granted to 30,000 former militants in the area.
---
Nigeria up close: Check out our Flipboard magazine
---