Nigerian Nobel literature laureate and author Wole Soyinka has announced he will leave the US after the inauguration of the new president, Donald Trump, on 20 January 2017. Republican Trump defeated Democratic presidential candidate Hillary Clinton on 8 November.
In the lead-up to the presidential election, Soyinka, 82, had already said he would tear up his green card – a permanent residence permit for the US – in case Trump won.
"Come January 20, 2017; watch my WOLEXIT!", the author wrote in an email to the Abuja-based The Interview magazine on 10 November.
During the electoral campaign, Soyinka strongly criticised Trump for his controversial remarks on immigration, Muslims and his plan to build a wall along the border with Mexico to keep illegal immigrants out.
"Trump's Wall is already under construction. Walls are built in the mind, and Trump has erected walls, not only across the mental landscape of America, but across the global landscape," said Soyinka.
"I am glad you referred to the anniversary of the fall of the Berlin Wall – that was one anniversary in reversal!"
Soyinka also told Newsweek magazine that Trump could jeopardise the US support in Nigeria's fight against Boko Haram terrorists, accused of having killed at least 20,000 people since 2009.
"One should expect that level of collaboration to diminish. Trump's mentality is one of, 'What are we doing there? What business do we have over there?'"Soyinka said. "I foresee Trump dismissing that kind of expectation offhand and closing in, shrinking, becoming smaller in terms of [the U.S.'s] presence in other parts of the world," he continued.
His claims came as thousands took to the streets of several cities across the US chanting "not my president, not today," in protest against Trump's victory.
Both Clinton and outgoing president Barack Obama congratulated Trump. Speaking in the Rose Garden of the White House, Obama said he had been "heartened by" a conversation with Trump after his victory and pledged to work towards a peaceful transfer of power.
Who is Wole Soyinka?
Soyinka was awarded the Nobel prize in literature in 1986, becoming the first African to win the award in that category.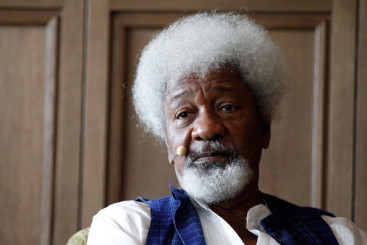 The author – who was imprisoned in Nigeria during its civil war (1967-1970) due to his political activism – has written dozens of plays, memoirs and poetry collections.
Some of his most famous works include The Lion and the Jewel, Death and the King's Horseman and A Dance of the Forests.
Soyinka fled Nigeria to the US in 1994 after openly criticising the then military regime of Sani Abacha. In 1997, he was charged with treason and sentenced to death in absentia.
Soyinka has taught in several universities including the University of Nevada as Professor of Creative Writing. He also taught at the universities of Oxford, Harvard and Yale.