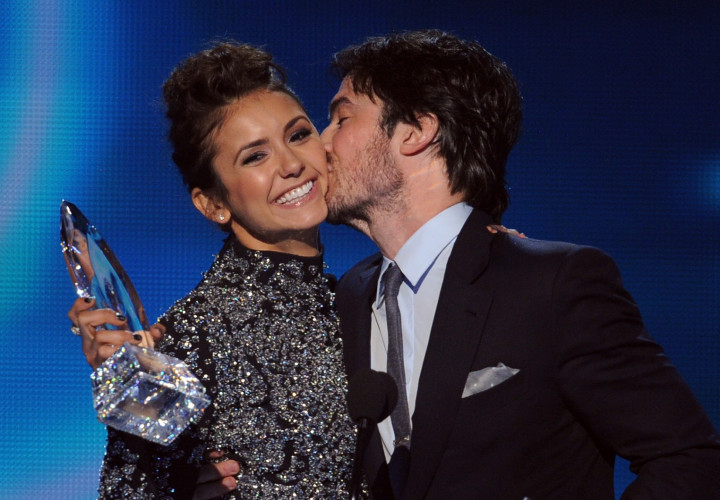 Nina Dobrev and Ian Somerhalder's romance is definitely over for good as new rumours are swirling that she's happy to get away from him.
According to CelebDirtyLaundry, things are now at the peak of awkwardness on the set of The Vampire Diaries Season 6, and Dobrev is reportedly happy that she doesn't have to see her ex-boyfriend on the set every day.
The website said that writers have been trying to write scenes where Dobrev and Somerhalder are separated from each other, even though their characters Damon and Elena are lovers in the show.
The current track of Vampire Diaries is focussing on Damon coming back from the dead to be with his girlfriend. But Elena has erased all his memories of their love, and is now trying to move on.
But since fans want the two together, it's hard for the writers to please both the actors and all the fans who want to see Delena together.
Rumours revealed that this season may be its last for the show's main actors - Somerhadler, Dobrev and Paul Wesley as Stefan.
"Nina Dobrev is just as excited about that prospect as any of the other actors, perhaps more so," the website wrote.
"She'll finally be able to ditch Ian for good, and she can finally start concentrating on her film career - properly, without the distraction of shooting and promoting a TV show."
Somerhalder and Dobrev broke up early last year. Now, the 35-year-old star is dating Twilight actress Nikki Reed.
Meanwhile, Hollywood News Daily reported that Ian Somerhalder is jealous of Nina's budding movie career. Dobrev recently starred in the comedy film, Let's Be Cops, with Damon Wayans Jr.
Do you think Nina will quit the show?
Let us know your opinions in the comments section.