The trial of a controversial pro-Biafran leader facing charges of criminal conspiracy in Nigeria has been unexpectedly adjourned, prompting his lawyer to express concerns for his client's safety. Nnamdi Kanu was due to appear in court in Abuja on 1 December after pleading not guilty to charges of criminal conspiracy, intimidation and belonging to an unlawful society.
The popular leader of Indigenous People of Biafra (Ipob) has joined other pro-Biafran groups in calling for the independence of territories that constituted the Biafran Republic, established in 1967 and reannexed to Nigeria in 1970. This followed a civil war that led to the deaths of between one and three million lives.
Kanu, a British passport holder who is also director of Radio Biafra, was arrested in Lagos in October amid accusations that he had been promoting hate speech and calling for a violent uprising to achieve independence. He spends his time in both the UK and Nigeria.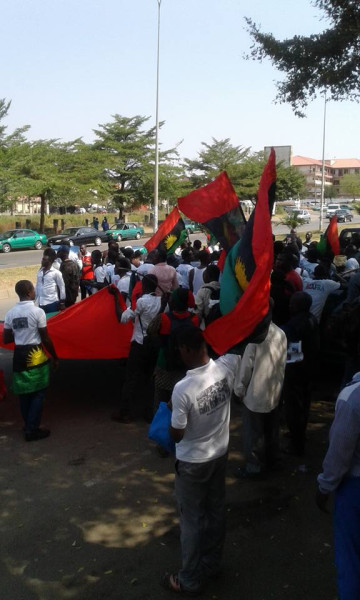 As he was due to appear in court to hear the charges levelled against him by Nigeria's state security, the Department of State Services (DSS), supporters took to the streets in the Nigerian capital of Abuja to call for his immediate release. But the case was not heard after Kanu's lawyer was told the judge's father had died and could not attend.
Vincent Obetia described his "distress" at not having seen his client for more than a week and expressed fears over his well-being. He told IBTimes UK: "I'm really worried about Nnamdi as they aren't giving me access to him. Since his arrest on 14 October, they have allowed me to see him just twice. The last time I saw him was at his court hearing on 23 November. He was not looking the way he used to look. There were changes in his appearance.
"I have been trying to get access to him but I have been unable to speak to anyone. I'm distressed as I can't prepare his case in his absence. This is not good for justice. We are trying to arrange another court date which I hope will be done today."
Kanu's sister, Princess Chinwe Kanu, has previously also expressed her concern over her brother's well-being since his arrest, making allegations that he had been tortured and was suffering starvation. Obetia said during the "busy" court appearance on 23 November, he was unable to probe Nnamdi about the allegations of torture but said his client was "not in the proper frame of mind".
In November, Obetia said the DSS had been authorised by the court to detain his client for 90 days to "conclude what they said was an investigation of terrorism and terrorism financing". Amnesty International said in an exclusive report by IBTimes UK there was "credible evidence that pro-Biafran separatists in Nigeria are targeted by police", an allegation police in Nigeria deny.
IBTimes UK attempted to reach the DSS for a statement but had not received one at the time of publication.