Francois Hollande has ruled out the prospect of Britain having access to the single market without adhering to the principle of free movement of people. The French President made the statement at a joint press conference with Theresa May, who was in Paris for talks with Hollande about the UK's exit from the European Union (EU).
Hollande said that if the UK wishes to retain access to the free market, it cannot have restrictions on the free movement of people. Neither Hollande nor German Chancellor Angela Merkel offer any indication of budging from this stance.
"The UK today has access to the single market because it respects the four freedoms," said Hollande. "None can be separated from the other. There cannot be free movement of goods, free movement of capital [and] free movement of services if there isn't free movement of people."
He added: "It will be a choice facing the UK. Remain in the single market and then assume the free movement that goes with it or to have another status. That will be the subject of the negotiation."
While the French president stood resolute, the British prime minister said the EU referendum vote had shown British people had given "a very clear message that we should introduce some controls to the movement of individuals from the countries in the European Union to the UK.
"Looking at that issue will be part of the negotiations," added May. "I'm clear that the government should deliver and will deliver on that for the British people, but we also want to get the right deal on the trade in goods and services.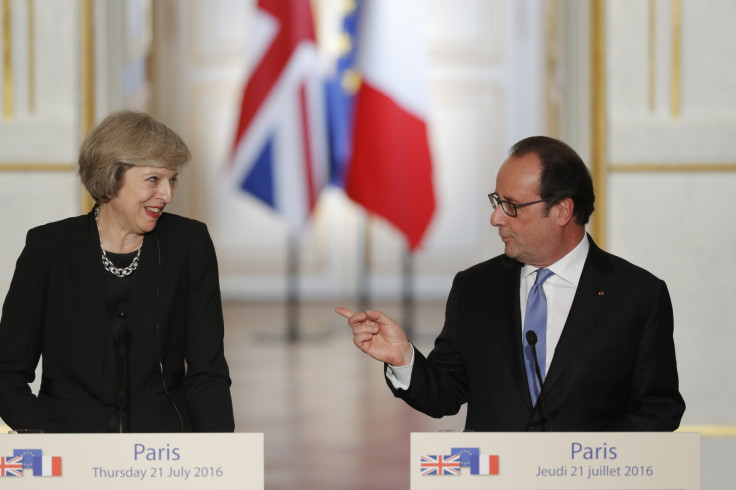 "This is important economically, not just for the United Kingdom, but for other countries within the European Union as well."
While May has ruled out the prospect of triggering Article 50 before the end of 2016, Hollande called on the UK to begin divorce proceedings sooner rather than later. "The UK has decided to leave the EU, its decision, its responsibility, and we respect that decision," the French president said.
"We would like it to be reflected in the best possible timescale to open a negotiation to establish what will be the relationship between the UK and European Union.
"The sooner the better in the common interest ... because uncertainty is the greatest danger."