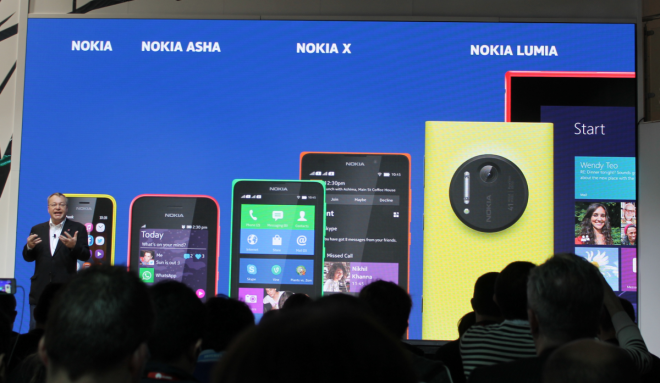 Nokia has announced the X range of Android smartphones, three budget devices running Android application, but with Microsoft online services and a user interface very similar to that of Windows Phone.
Rumoured and speculated for some time, the Nokia X family of budget smartphones (codenamed Normandy) feature a similar design to the company's Lumia smartphone range.
The user interface is tiled and features live tiles, just like Windows Phone, and tiles can be dragged around the screen and rearranged in any way the user wants. They can also be resized, giving the tiles more features. For example, if the gallery app tile is made larger, it shows a slideshow of photos stored on the phone, just as on Lumia devices. Folders of apps can also be created by dragging one app tile over another.
The 4in Nokia X ad Nokia X+ were launched alongside the XL, which has a 5in display with WVGA resolution (800 x 480 pixels) and a 5 megapixel rear camera with flash and autofocus; there is also a 2 megapixel front-facing camera for use with Skype.
Growth markets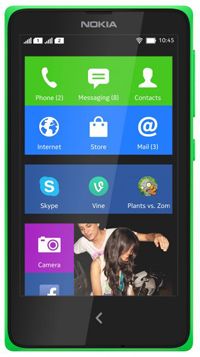 Outgoing CEO Stephen Elop said the Nokia X is available now for €89, while the X+ will cost €99 when it goes on sale in early Q2. The larger Nokia XL will also arrive in early Q2 for €109. All three devices will be available widely across the world, but starting in what Elop described as "growth markets".
While this may be Android in name, Elop made it very clear that it was using the Android Open Source Project (AOSP) and would not be offering any of Google's services (Maps, Gmail, Search etc) and would instead be using Microsoft's services (Bing, Outlook, Skype etc). Elop also pointed out that the Nokia X phones would be communicating with Microsoft's cloud and not Googles.
Users of the phones also won't have access to the Google Play app store meaning they will have to use Nokia's own store, or one of the dozens of third party Android stores available, such as the Russian-based Yandex store.
The Nokia X and Nokia X+ will come with Nokia's own HERE mapping application (stored on the device for offline use) and Microsoft's OneDrive for cloud storage. Nokia is offering 10GB of free OneDrive storage to all customers.
The devices feature Nokia's trademark unibody design, with brightly coloured rear shells, as well as microSD card slots for expanding storage. The Nokia X phones comes pre-loaded with apps such as Skype, Facebook, Twitter, Angry Birds and more.
Nokia's future
In regard to Microsoft's acquisition of Nokia's phone-making business, Elop explained his company's future: "Lumia continues to be our primary smartphone strategy and gives people the benefit of Microsoft cloud-based services. [The] Nokia X family serves fast-growing affordable smartphone segment for people in growth markets. X will generally be priced below the Lumia family.
"Customers should expect to see in the future Lumia getting cheaper, and X pushed up to just below that. Nokia X gives people a gateway to Microsoft.
"Nokia X becomes a feeder system for Lumia, deliberately using Android without Google's cloud services, instead substituting MS and Nokia services. Introduces the next billion people to Microsoft."
Microsoft's cloud, not Google's
Essentially, the Nokia X and Nokia X+ are running a forked version of Android, in the same way Amazon does with its Kindle Fire tablets. It may be Android, running Android applications, but most users would consider this to be Nokia's own user interface with much in common with Windows Phone.
This approach allows Android developers to easily bring their apps to the Nokia X in just a few hours, or even less than that.
The sub-€100 range is a "massive opportunity" for Nokia, with that area expected to grow four times faster than the rest of the smartphone market.
Asha
Nokia also updated its Asha family of budget smartphones with the Asha 230, the company's cheapest ever mobile device with a touchscreen.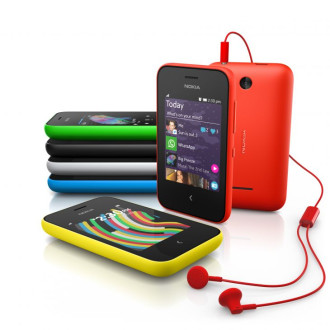 The Asha 230 is priced at €49 and aimed at "young, aspirational people" who want to upgrade from a basic feature phone to one with a touchscreen.
The device is awoken with a double tap on the screen and features Nokia's Fast Lane user interface and Asha Motion, an app letting users design and create a wallpaper to match the phone's colourful rear shell.
From April, a software update will be rolled out by Nokia and is compatible with all Asha phones released to date. The update will include Microsoft OneDrive (previously known as Sky Drive), letting users store their photos and other documents online.
The Asha 230 is on sale worldwide now for €49.
Budget Nokia 220
Elop also announced the Nokia Asha 220 - the company's "most affordable internet-ready mobile phone". At €29, the Asha 220 costs less than a typical month of broadband service. The feature phone has a 2.4in display and is aimed at getting emerging markets on the internet for the first time.
The 220 comes with Facebook and Twitter already installed, as well Microsoft Bing search integrated into the phone's internet browser - the 220 is "an aspiration leap into their very first mobile phone ownership," said Elop..