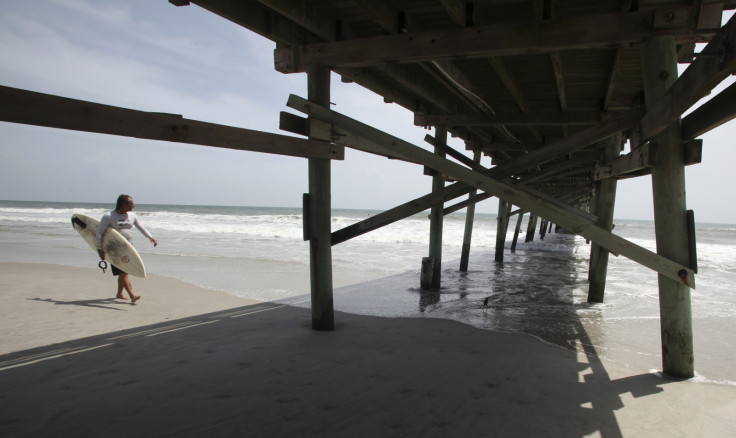 Authorities were urging tourists at a popular beachside destination in North Carolina to be cautious and possibly stay out of the water after two teenagers lost limbs in separate shark attacks in the area.
A girl aged 12 or 13 and a 16-year-old boy were mauled within two hours of each other as they were swimming off Oak Island, on the Atlantic coast about 200 miles south east of Charlotte.
The first victim was attacked at a beach near the local Ocean Crest Motel, with eyewitnesses comparing the Sunday afternoon incident (14 June) to scenes from the movie Jaws.
"I saw someone carry this girl [out of the water] and people were swarming around and trying to help," tourist Steve Bouser told AP. "It was quite terrible."
"It was so much like a scene from Jaws," his wife Brenda Bouser added, referring to Steven Spielberg's 1975 cult thriller movie.
The girl was airlifted to a hospital, where she is reported to be in a fair condition after undergoing surgery. Officials at the New Hanover Regional Medical Center said she had her left arm amputated below the elbow and doctors were fighting to save her leg, WECT reported.
The boy was airlifted to the same hospital later in the afternoon after he was also mauled in the vicinity of the popular Ocean Crest Pier. He also lost an arm and was said to be recovering after surgery.
Brunswick County Sheriff's office flew a helicopter to patrol the coastline from the air, while beachgoers were asked to remain on land on Sunday evening.
Beaches in the area are due to reopen on Monday although local authorities warned visitors to be cautious and possibly stay out of the water.
"Oak Island is still a safe place," said town manager Tim Holloman, ABC news reported. "We're monitoring the situation. This is highly unusual."
Experts said that tiger or bull sharks might have been responsible for the attacks. It is not known if both teens were mauled by the same animal.
"Personally I wouldn't be swimming any more than knee deep. If that shark's that big and he was in that close, he can get up to you very easily," Oak Island resident Adrian Pharo told WECT.
Local authorities are due to hold a press conference with updates on the situation on Monday morning at 9am local time.