North Dakota governor advises pipeline protesters to vacate ahead of possible March flooding
The site of the $3.7bn project was the scene of demonstrations by Native Americans and environmentalists.
The new governor of North Dakota, Doug Burgum, has warned protesters remaining at the construction site of the Dakota Access Pipeline to vacate the place ahead of possible flooding in March.
"The main protest camp is located directly in the floodplain of the Cannonball-Missouri River confluence. Given the snowfall we're having this winter and historic data on the Cannonball River, that camp will likely flood in early March," Governor Doug Burgum said in his State of the State address in Bismarck on Tuesday, 3 January.
Native Americans, environmentalists, military veterans and celebrities have earlier staged protests against the Dakota Access Pipeline. The project, which is estimated to cost $3.7bn (£2.94bn), runs through four states, 50 counties and three major rivers.
According to protesters, the pipeline will harm drinking water reservoirs and ruin sacred sites in the region. In December, The U.S. Army Corps of Engineers had rejected an easement needed to allow the pipeline to run under Lake Oahe. While several members of The Standing Rock Sioux and other protesters dispersed from the site after the decision, some have remained at the site despite the harsh winter.
"Anything less than a complete restoration of the area prior to the early March flood will endanger the lives of the protesters and of our first responders," Burgum added, who joined the office in December 2016.
Energy Transfer Partners LP, the company behind the construction of the pipeline, has said the nearly-complete 1,172-mile (1,885-km) line would be a more efficient and safer mode to transport oil from the Bakken shale of North Dakota. The company has also sought help from the federal court for a permit to complete the work.
The newly-appointed governor, who supports the project, repeated the position of law enforcement officials who have said many of the protestors were from outside North Dakota and had weaken real concerns over water rights.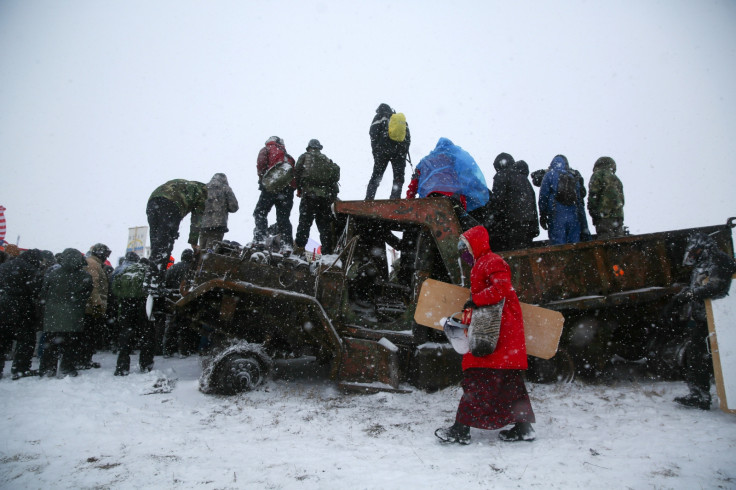 "Those original concerns have been hijacked by those with alternative agendas," Burgum said.
Burgum, a tech industry veteran, also promised to meet tribal leaders to discuss the issue. He added that the pipeline had highlighted the need to address historic injustices against Native Americans.
"The history of American settlement and westward expansion contains many tragic episodes of broken promises, displaced native peoples, and forced assimilation. It is in this context that the Standing Rock situation must be understood," he said.
© Copyright IBTimes 2023. All rights reserved.