North Dakota pipeline protesters climb US Bank Stadium rafters during NFL game
A woman and a man scaled the building to unfurl a sign protesting the controversial pipeline.
Two protesters climbed the rafters of the US Bank Stadium in Minnesota to protest against the North Dakota Access Pipeline (DAPL) during a NFL game between the Minnesota Vikings and the Chicago Bears on 1 January.
Sen Holiday and Karl Mayo scaled the building to unfurl a sign with the word "Divest" and "NoDAPL", calling for US Bank to sever ties with the $3.7bn (£2.94bn) pipeline project, which crosses four states and has been fiercely opposed by both environmentalists and Native American communities.
Police waited for the game to finish before removing and arresting the pair, who were jailed on burglary and trespassing charges, Reuters reported. Five demonstrators were arrested last week in the first protests since the federal government decided to delay work on the pipeline, which is due to cross through lands sacred to Native American communities.
Opposition to the pipeline has been backed by a number of military veterans, who travelled to the Standing Rock Sioux protest camp to protect protesters. A number of actors have also voiced opposition, including Mark Ruffalo, Susan Sarandon and Shailene Woodley, who has also been arrested for taking part in one of the protests.
The company building the pipeline, Energy Transfer Partners, and its subsidiary, Sunoco Logistics Partners, have asked a US court to "end the administration's political interference in the Dakota Access Pipeline review process". The company is committed to completing the project without finding an alternative route, and it has said the project is legal and needs no further government approvals.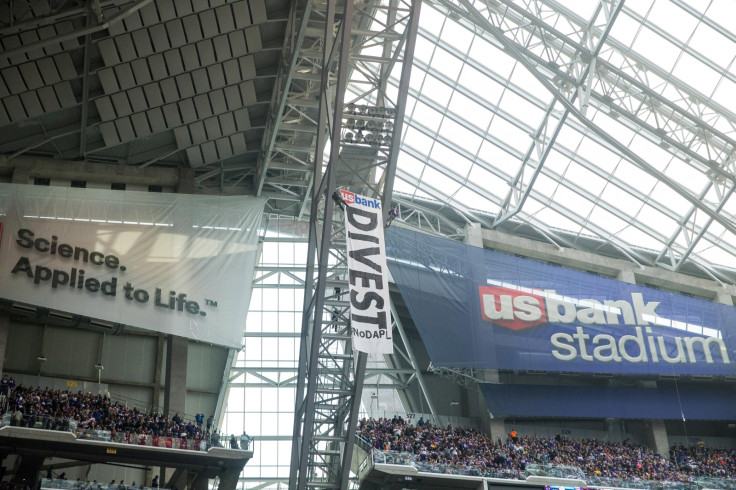 © Copyright IBTimes 2023. All rights reserved.