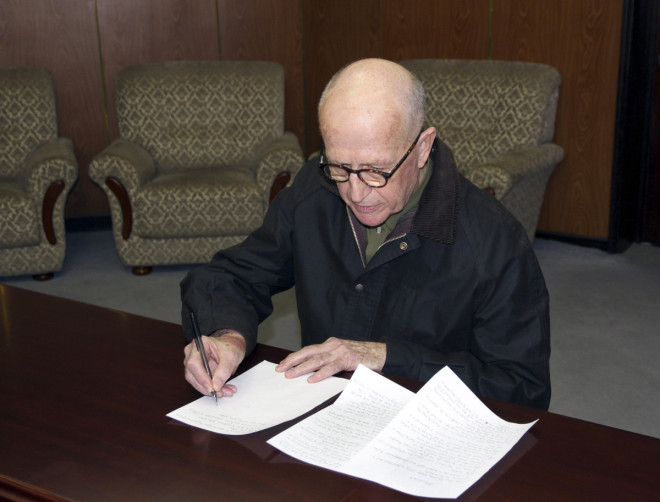 A 75-year-old Australian missionary detained in North Korea for endorsing Christianity, by disseminating "Bible tracts" in a Buddhist temple, has been freed after he "confessed" to indulging in religious activity.
"The relevant organ decided to expel him from the territory of the DPRK, thanks to the tolerance of the law of the DPRK and in full consideration of his age," the North Korean Central News Agency (KCNA) said.
A resident of Hong Kong, John Short was arrested after he was found distributing Korean-language Christian pamphlets in Pyongyang on 16 February, the birthday of the late leader Kim Jong Il, according to KCNA.
The state-run agency released Short's handwritten confession and pictures in which he is seen putting his thumb impression on the signed testimony.
KCNA said that the "generous" decision to deport the missionary back to China was taken after he gave a written apology, and read it aloud on state television.
Authorities in the state are generally known to script confessions for the detainees, which they mouth on state television, before being released.
"I realise that my actions are an indelible hostile act against the independent right and laws of the (North)," Short went on to say.
"I request forgiveness ... and am willing to bow down on my knees to request this tolerance of (North Korea) and the Korean people."
"I now realise the seriousness of my insult to the Korean people on February 16th because I made the Korean people angry and for this I truly apologize," Short said.
Short is further reported to have said that the western media inaccurately and wrongfully defames the state for being closed and against religious freedom.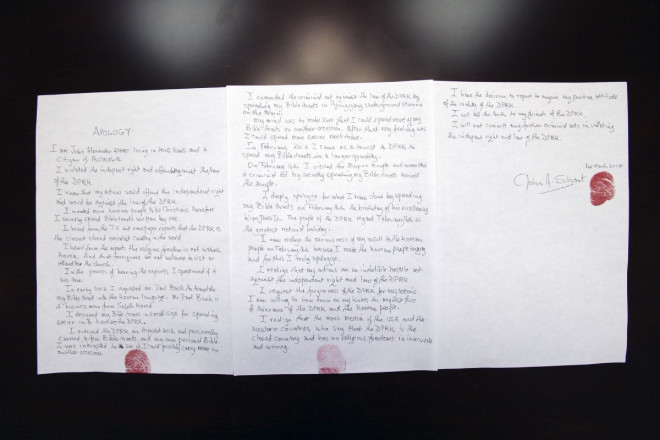 North Korea says that its constitution guarantees freedom to worship any religion. But, religious services are only carried out by officially-authorised groups under close supervision of the government.
People found keeping Bibles at their homes or having secret prayer meetings are punished by being sentenced to public execution or to gulag-style labour camps.
Short arrived in Beijing upon his release but declined to talk to reporters, and was taken to the Australian embassy.
Karen Short, the missionary's wife was quoted as saying by AFP that she was "amazingly thankful".
"Clearly this is welcome news for Mr. Short, his family and his supporters," said Australia's Department of Foreign Affairs and Trade in a press statement.
Short was arrested last month when he was on a tour of the country with Wang Chong, a Chinese Christian, who was spared detention by the pariah state.
Wang said that the elderly missionary got into trouble by distributing Christian pamphlets at a Buddhist temple. A local tour guide spotted him circulating the tracts and informed security officials who checked his baggage at his hotel room and confiscated the material.
In 2012, North Korea had also convicted Kenneth Bae, a US citizen, for evangelism and "sedition", and sentenced him to 15 years at a labour camp.
Kim Jeong-Wook, a South Korean missionary, was arrested in October last year for spreading Christianity. He was reported to have "confessed" to spying for the southern neighbour.
South Korea, meanwhile, has denied Kim's association with its intelligence department, and asked for the missionary's prompt release.