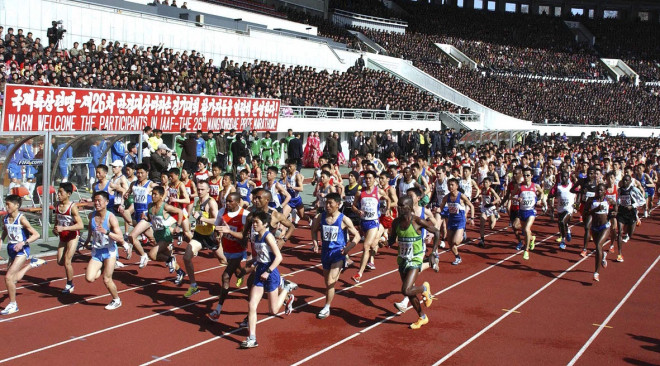 It was not just London where runners took part in a marathon on Sunday - North Korean captial Pyongyang also hosted its annual event.
Although there was no sign of a running fridge in the Mangyongdae Prize International Marathon, tens of thousands of North Koreans reportedly lined the city's streets to support participants, including, for the first time, amateur runners.
Officials said runners from 27 countries took part.
The run was part of a series of sporting, artistic and cultural events commemorating the birthday of the nation's founder, Kim Il-sung, on 15 April.
While the event was devoid of sponsors such as Virgin and Lucozade, runners and spectators in Pyongyang could at least enjoy the patriotic music pumping out of speakers.
Home favourite Pak Chol crossed the finish line first in 2:12:26 - eight minutes slower than London's winner Wilson Kipsang.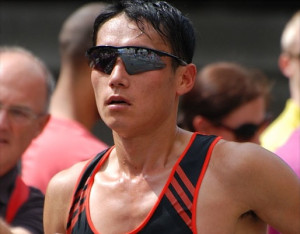 It was a clean sweep for the host nation as Kim Hye-gyong and twin sister, Kim Hye-song, finished first and second respectively in the women's race. the winner clocked up 2:27:04.
Her time was eclipsed by Edna Kiplagat, of Kenya, who ran the London marathon in 2:20:21.
Runners on the mostly flat Pyongyang course did four loops around the centre of the city of 2.5 million people, starting at a packed 42,000-capacity Kim Il Sung Stadium.
Winners

Olympic gold medalist Mo Farah's time of 2:08:21 would have won the North Korean race by four minutes.

North Korean leader Kim Jong-un

Reuters

Spectators

London's streets were packed with more than 650,000 while reports claim up to 100,000 in Pyongyang.

Participants

London boasted its best line-up this year with more of the top tier of runners than ever before, including winner Kenyan Wilson Kipsang and Great Britain's Olympic hero, Mo Farah.

North Korea welcomed runners from 27 countries including amateurs for the first time. Previously, the North Korean marathon was an elite-only event, with a small number of runners from Kenya, China, Russia and other countries competing alongside North Korean.

The Arch of Triumph in central Pyongyang

Reuters

Route

Starting in east London, runners made their way from Greenwich and past Bermondsey. At about the 12-mile mark, runners crossed the iconic Tower Bridge, heading towards the Isle of Dogs and the famous skyline of Canary Wharf.

After 20 miles the course entered perhaps its most scenic leg as participants went past Embankment, Westminster and then finally Buckingham Palace to finish at The Mall.

Runners on the North Korean course did four loops of the city centre, running past landmarks including the Arch of Triumph, the Friendship Tower and the Kim Il-sung University area. They then crossed a bridge to the east side of the city and wound their way along the river bank to the stadium.