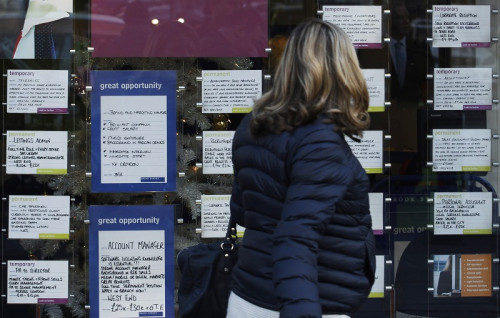 The North and the West Midlands are missing out on the UK's economic recovery as the likelihood of being employed in those regions has fallen since mid-2010, according to new research.
The Trades Union Congress, which analysed regional labour markets over the last 20 years, said that since the 2010 General Election there are now 780,000 more people in work across the country and the likelihood of having a job has also increased – up 1% since 2010.
But the research also revealed people's chances of having a job have fallen in four English regions – the West Midlands (down 0.8%), the North West (down 0.7%), the North East (down 0.6%) and the South West (down 0.1%).
In contrast, employment rates have increased the most in Yorkshire and the Humber (up 2.4%) and the East Midlands (up 1.8%).
"Britain's growing population has meant record levels of employment for much of the last two decades," said Frances O'Grady, general secretary of the TUC.
She added: "But despite the return of growth the chance of having a job has actually fallen in much of England since 2010.
"The City of London may have caused the crash but the capital's job market has been the most resilient over the last five years.
"Instead, areas like the West Midlands have borne the brunt of recession, with people's chances of being in work are barely any better today than they were after the last recession in the early 90s."
The report also takes a long-term look at the labour market and finds that the UK's working age population has grown by nearly four million in the last twenty years.
The report shows that the North East and London have performed best over the last twenty years, with employment rates increasing by over 5% since the 1990s, in spite of the recession.
However, even between the London boroughs there are big local differences, with someone living in Wandsworth or Richmond 20% more likely to be in work, compared to a resident of Newham or Barking and Dagenham.