The housemates of a woman who was sentenced for self-terminating her own pregnancy after purchasing drugs online have spoken about why they reported her to the police.
The 21-year-old Belfast woman (who cannot be named for legal reasons) was handed a three-month sentence suspended for two years after pleading guilty to procuring her own abortion by using a poison, and of supplying a poison with intent to procure a miscarriage. Human rights groups have described the sentence as "utterly appalling".
At Belfast Crown Court, the woman said that in 2014 when she was 19, she could not afford to travel to England for an abortion and so purchased the abortion pills from the internet and self-terminated the pregnancy of the 10 to 12-week-old foetus.
Unlike in the rest of the UK, it is illegal to perform an abortion in Northern Ireland except under extreme circumstances, despite a High Court ruling that in some circumstances the current laws were a breach of human rights.
The court heard how officers from Police Service of Northern Ireland (PSNI) were contacted by the woman's flatmates eight days after the abortion. When officers arrived at the house, they found a male foetus inside a plastic bag in a household bin.
During an interview, the housemates of the woman explained that they decided to contact police about the incident because of the "attitude" of the woman, with one of them saying she has received counselling after finding the foetus in the bin.
She told the Belfast Telegraph: "This isn't anything to do with the rights and wrongs of abortion. I'm not anti-abortion. I believe there are circumstances, like rape, where it should be a woman's choice.
"This is about her attitude. It was as if she was getting rid of a piece of clothing. There was absolutely no remorse. Even the way she was up and away out and doing her own thing a day after the abortion, while me and our other house-mate just walked around in shock.
The woman, who asked to remain anonymous, added: "We tried to help her. She was given lots of different options. We even tried to talk to her family to get them to help her, but we didn't know them and she wouldn't give us their contact details. People are saying we contacted police out of malice. That's not true."
The second housemate, who said she has been the victim of online harassment in the wake of the sentencing, added: "This isn't a debate about the rights and wrongs of abortion. The way this was done was wrong. The baby had hands, feet, all its facial features, its little nose. I can't stop thinking that it might have been alive when it was born. It is awful."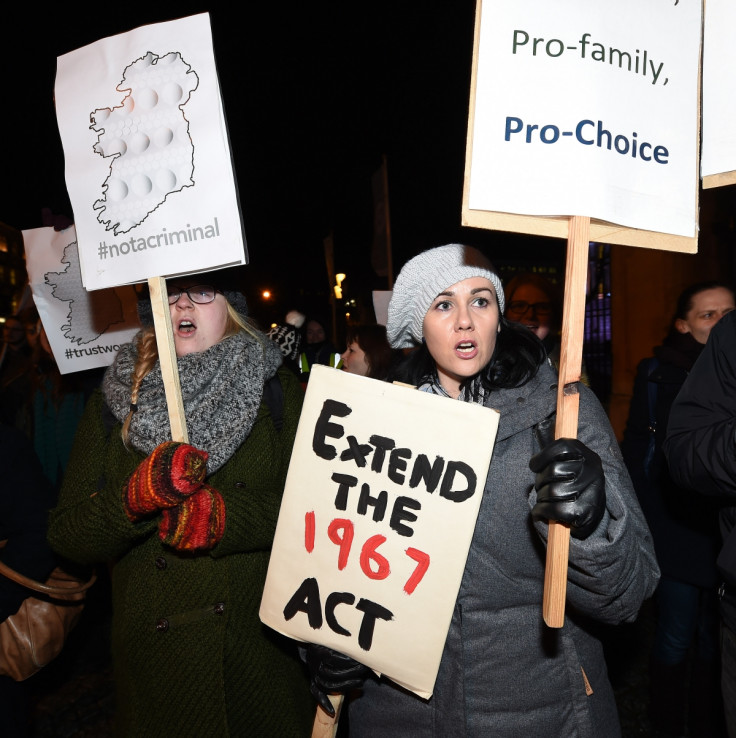 Amnesty International Northern Ireland Director Patrick Corrigan said: "We're utterly appalled by the court's decision to impose a suspended prison sentence on this woman. A woman who needs an abortion is not a criminal. The law should not treat her as such."
The British Pregnancy Advisory Service (BPAS) said the woman is a "victim of Northern Ireland's draconian abortion laws". A spokesperson added: "We know that hundreds of women from Northern Ireland travel to England for abortion care every year, but we also know that there are many who are unable to do so, like the individual in this case.
"Online abortion medication is sadly for some women their only option – and they are being punished for lacking the financial means to travel. This is deeply unjust and, as Justice Horner recently stated, smacks of one law for the rich and one law for the poor.
"It is frightening that women in every country in the UK still face imprisonment for ending a pregnancy. We call on all politicians to repeal these antiquated, Victorian laws and create an abortion framework fit for women in 2016. We deserve nothing less."