A pre-school in Norway has come under heavy criticism on social media after it posted pictures of its five-year-old children visiting a farm to see the slaughter and skinning of reindeer.
The pictures were posted on the school's Facebook page, which included eight children looking at reindeer and a culled animal hanging above a pool of blood. One of the pictures also showed a child dragging bloodied skin in the snow. Another one showed snowsuit-clad children tossing bits of animal carcasses into a container.
However, the Granstubben Barnehage School, which took the children on a day trip earlier this week, defended its choice of place for the preschoolers. Head of the school, Dag Olav Stolan, said the trip was designed with the intention of teaching children the indigenous way of life of the Sami, who live in the northern part of the country. The community is involved in reindeer herding.
"There are many reindeer outside. This is not the first time we have done it. It is important to show where the meat comes from," Stolan told the Associated Press.
'We will do it again," he added.
The preschool said it has taken its children to see the slaughter of other animals like pigs in nearby farms.
The school head said the children were taken on such trips only after seeking their parents' permission. The staff also speak to the children about the farm before and after the trip, Stolan added.
None of the children have reacted negatively after witnessing the animals being slaughtered, Therese Johnsen, one of the teachers of the school, reportedly said.
The preschool is located near the city of Steinkje, some 515km (320 miles) north of Norway's capital Oslo.
A massive horde of reindeer is believed to be in the region where they roam freely. They provide work for those in Norway's meagerly populated northern wilderness.
However, critics slammed the authorities on the school's Facebook wall, saying that "the kindergarten is making sure we get more psychopaths among us" and "people who are killing animals are not far away to killing human beings".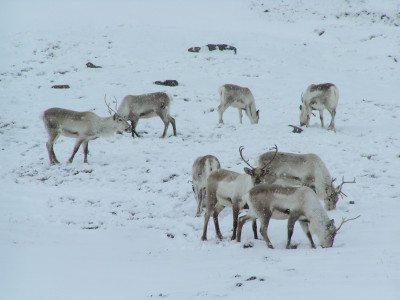 But dissecting animals in front of the public is thought to be a common practice in Scandinavia.
A zoo in Denmark is reported to have faced harsh criticism and online protest after it publicly dissected a lion in front of children. The incident took place in October 2015. A year earlier, the Copenhagen Zoo too made international headlines for killing a giraffe for inbreeding reasons and dissecting it later to feed to lions in front of visitors, including children.