Police in Paris have arrested three women on Thursday evening (8 September) in an operation in which a policeman was stabbed and one of the women then shot and injured. The arrests were made following investigations into the discovery of a car filled with gas canisters and fuel near Notre Dame Cathedral on Sunday morning (4 September).
The injuries of the stabbed police are said to be not life-threatening. The woman who was shot, was detained in Boussy-Saint-Antoine on the outskirts of Paris. Both the policeman and the arrested woman have been taken to hospital.
Two other women were also held, according to French Interior Minister Bernard Cazeneuve. He said that the radicalised women were linked to the discovery of the abandoned vehicle.
In a televised statement Cazeneuve said: "These three women, aged 39, 23 and 19 had been radicalised, were fanatics and were in all likelihood preparing an imminent, violent act."

A man and woman were arrested in the town of Montargis in the Loiret region south of the capital, on Wednesday in connection with the case. It was also revealed by the Paris prosecutor's office that another couple had been detained on Tuesday (6 September) on a motorway in southern France. The two men are said to be brothers.
The four suspects were taken to Paris as part of the investigation. Under French law they can be detained for up to four days without charge.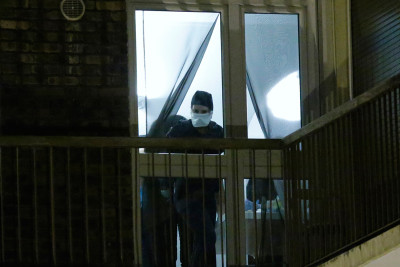 Reuters is reporting that the Peugeot 607 found in a cobbled street filled with bars and restaurants near Notre Dame belonged to someone on an intelligence services watchlist. The man had reported that his car and his daughter had gone and that his 19-year-old daughter had been "radicalised." He was questioned then released, according to ABC.
Although no detonator was found in the car it contained several full gas canisters and diesel fuel along with writing in Arabic. The car also had its hazard lights flashing and had no registration. but no detonator, and one theory is that it was being used as a dry run for a terror attack in the city, which has been targeted several times in recent years. A state of emergency remains in place across the whole of France.