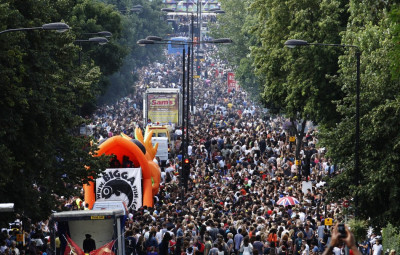 One man is in serious condition after he was stabbed at the Notting Hill Carnival. Despite the injury, several other knife assaults and a rise in the number of arrests, however, police hailed the two-day event as a great success.
The Metropolitan Police recorded a total of 299 arrests - 54 more than year - for robbery, assault and possession of drugs.
A group of 36 men was stopped at Kings Cross underground station en route to the street festival over fears that they were planning to cause trouble.
The number of arrests was in line with expectations. The Met drafted in 7,000 officers.
In one incident a 20-year-old man was left in a serious but stable condition after being stabbed in the back and buttocks in Ladbroke Grove.
The Met also said a 14-year-old boy was slashed with a sharp object in Golborne Gardens.
Three men were also stabbed in a fight in North Pole Road - close to the carnival route.
Commander Bob Broadhurst, in charge of the policing operation in London, said: "After what has already been a long summer for our officers, this Notting Hill Carnival once again required them to perform to their very best. For the last two days our officers were out there working hard to make sure that those who wanted to come to the event and have fun could, and those who wanted to break the law were arrested or disrupted.
"We had a highly visible presence on the streets of Notting Hill to make sure those troublemakers who thought violence and crime was an option were met by a swift response."
Despite brief periods of rain, hundreds of thousands of people flocked to the streets during the bank holiday weekend to celebrate.
Parades of Caribbean-inspired costumes adorned the streets, music boomed out of sound systems and floats followed the route route from Ladbroke Grove to Westbourne Grove and Chepstow Road.
Click through to see how thousands of people celebrated the annual celebrations at Notting Hill.