Nottingham Forest manager Sean O'Driscoll has admitted that he may contact Tottenham in order to extend the loan deal of midfielder Jermaine Jenas.
The midfielder joined his old club on a one-month loan deal which came to an end after he scored in the 4-1 win over Barnsley on Saturday.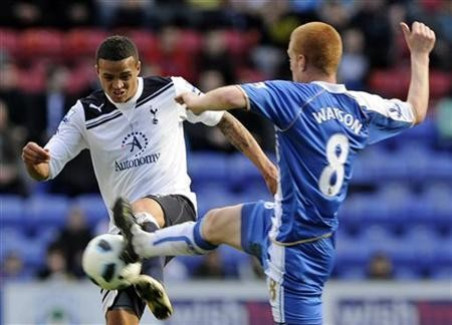 Jenas has been working hard to prove his fitness after a nightmare 12 months in which he has struggled to put together a string of games after suffering a number of injuries.
He has made four substitute appearances since joining Nottingham Forest and his goal at the weekend showed that he is beginning to come back into some sort of form.
Jenas is unlikely to get too much game time should he return to Tottenham as manager Andre-Villas-Boas has a wealth of players to choose from in central midfield.
With his chances of first team limited supremely limited at Tottenham, O'Driscoll is hoping that the north London club allow him to extend his loan.
"Sometimes as a manager you are wary about taking a big name from the Premier League, which he is, but he's been first class," O'Driscoll told the official Nottingham Forest website.
"His attitude has been great, he's got great experience and we've used his opinion on things because he has an influence on the group.
"The initial first month was a suck-it-and-see thing for both parties. We'll have to revisit it over the weekend and see where we go but we'd like to keep him if we can."
The 29-year-old began his career at Nottingham Forest before joining Newcastle and playing more than 150 times for the club in his five seasons at St. James Park.
He was a regular starter for Tottenham for a number of seasons but has since fallen down the pecking order and was sent on a season-long loan to Aston Villas last year where he suffered a ruptured Achilles after just three games.