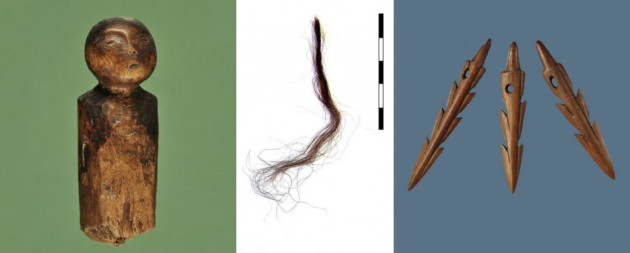 A 500 year old archaeological site, known as Nunalleq, discovered recently in Quinhagak (along the Bering Sea in Alaska) because of rapidly melting arctic ice, is at great risk of erosion and may vanish into the sea, researchers revealed at the British Science Festival in Aberdeen on 9 September.
"It's preserved by permafrost, and the permafrost is melting due to climate change. As it melts, it exposes the very soft soil to marine erosion: the shoreline retreats and the sites get damaged," exposing the artifacts and the sites themselves," Dr Rick Knecht from the University of Aberdeen's Department of Archaeology said.
The Nunalleq site is approximately three times the size of Scotland in area and contains some exceptionally well-preserved organic remains from the late prehistoric period. It was inhabited between 1350 and1650 AD and provides an insight into Yup'ik Eskimo culture.
Archaeologists at the University of Aberdeen have found so far tens of thousands of in-situ archaeological artifacts and tools at Nunalleq, including permafrost-preserved house-floors, beach rye grass baskets, cordage, human hair, animal fur and more organic materials in the best ever preserved forms.
Researchers analysing these artifacts and human remains believe it could help determine how human beings coped with climate change in the past. The findings could also provide lessons on how the world of today could cope with climate change... both now and in the future, according to archaeologists.
"Radiocarbon dating at the site suggests at least two phases of occupation, both before and after the onset of the 'Little Ice Age' – a pre-modern global temperature excursion event. Data from this project is therefore key to understanding human responses to past climate change in the Arctic; understanding human resilience; and the long-term relationship between Arctic peoples and the Bering Sea environment," Dr Knecht explained.
The Nunalleq site resurfaced in 2009 as global warming caused arctic ice to melt. However, the site is being rapidly eroded into the sea because of the same causes that helped it emerge.
"Ironically, it's sea level rise that led to the discovery of Nunalleq in the first place. Land is now eroding into the sea all along the Bering Sea coast, and prehistoric objects were ending up on the beach near Quinhagak, where they were first noticed by local people," another University of Aberdeen archaeologist, Dr Kate Britton, said.