Nus Ghani: Bricks, Barnardo's and the Quran Made My Conservative Conference One to Remember
Let me reveal a little secret about the life of a parliamentary candidate in the UK.
In a global interconnected world where more discussions take place online than face-to-face you would think that campaigning was done via multimedia tools and connected technology. For all the business execs and marketing experts reading this, please take a seat as I break the news.
Modern 21<sup>st political campaigning in the UK involves pushing leaflets through letter boxes, coffee mornings, opening fetes, chasing the local newspaper to champion community campaigns and knocking on doors up and the down the constituency hoping someone is home and prepared to chat. And that's the bit of campaigning that I love, the face-to-face conversations.
'Political campaigning involves coffee mornings, opening fetes and chasing the local newspaper to champion community campaigns'
Reuters/Darren Staples
Even though we are in the internet age, the beauty of the British parliamentary system is that we aspiring public servants, to be successful and relevant, have to invest in real-life, real-time conversations and relationships with the communities we seek to serve.
That is the purpose of the Conservative Conference, which closed earlier this month having hosted 14,000 representatives, including me and my team of volunteers from the Wealden Conservative Association (who were invited to lunch with the prime minister to recognise their 65 years of continuous fundraising for the Conservative Party).
All of us volunteers - or as I see it, community activists - attended conference because it is an opportunity have ordinary voices heard and be involved in debates and meetings that affect people's everyday lives. Here are a few things I got up to.
In the UK, it is estimated that 200,000 children have a parent in prison and more support is needed for these families. I chaired a discussion for the charity Barnardo's on support for their children and rehabilitation of the parents in prison. With the northern towns and villages in Wealden under the Gatwick flight path I also attended a series of debates on aviation and the link between air travel and economic growth.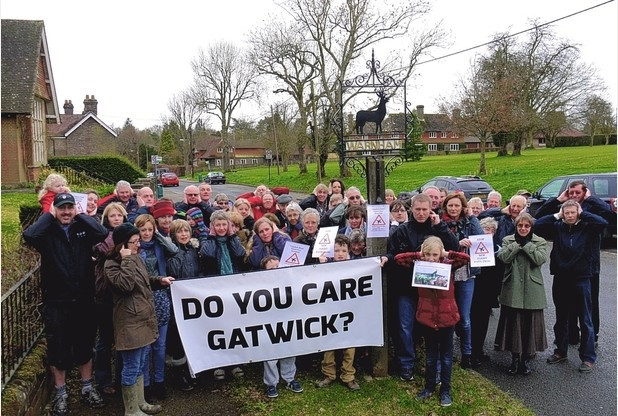 'Personally and politically, I was persuaded of the case made by Heathrow over Gatwick'
Airportwatch.org.uk
Personally and politically, I was persuaded of the case made by Heathrow over Gatwick (unsurprising you may think, given where I'm based). Managing meeting and media requests was overwhelming but I did take time out to speak on BBC Radio 4 Women's Hour about how to encourage more women to stand as elected public servants.
The conference is also where leading politicians deliver their vision and take questions from delegates. As the party of government, we heard statesmanlike speeches from our home secretary who addressed policing, terrorism and Isis and, I believe, is the first government minister to quote the Quran from such a platform.
It brought home the sombre reality of how small and dangerous our world really is. In contrast, later we heard the Mayor of London deliver a joke-filled speech and at one point he spoke to a brick – yes a brick – to demonstrate commitment to building new homes and wealth creation.
The economy was, as it should be, the main theme throughout the conference and, while it isn't headline-grabbing, securing economic certainty and confidence is the only way to deliver a prosperous future. This was also thread into the prime minister's passionate and unifying speech, which closed the conference to a rapturous crowd.
For me the priority is to reform the welfare system so it tackles dependency and helps people into work. None of this has to be party political, although it often becomes that way. For example, reforming welfare should not just be about saving money, but about ensuring everyone has a basic right to earn their living.
Just as rigour in the education system should not be driven by ideology but a deep-seated desire not to fail our children. And wanting a more effective justice system does not mean you only place a priority on punishment and retribution, but that making people feel safe is the only way to build a cohesive society.
These are my take aways from the conference, which I will be sharing with the residents of Wealden. Let's hope I find enough of them at home to begin the conversation.
Nus Ghani is standing for the Conservative Party in Wealden, East Sussex at next year's general election. You can follow her on Twitter @Nus_Ghani or go to the Wealden Conservatives website.