As a candidate, no two days are the same on the campaign trail, especially in a diverse constituency like Wealden. This week has taken me from hearing the concerns of our older residents to encouraging politically engaged students. From joining my village for our WW1 remembrance dinner to breaking bread with female activists of the Arab Spring. From greeting cabinet ministers at fundraisers to getting an education on Ogri cartoons.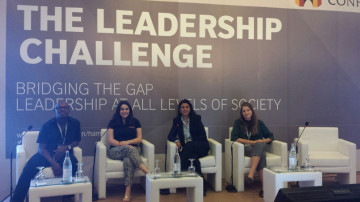 Women's voices in WW1
With 2014 being 100 years since the start of the First World War, commemoration ceremonies have taken place across the country and Wealden held its own services to pay respect. It was poignant to be reminded of how men and women fought so hard for our freedoms and I was reminded, at a First World War remembrance concert and dinner in my village, of how women also fought for suffrage and were given the vote in 1918, although only if you were over the age of 30!
Some of the older women of the village, who related their experiences of the Second World War, told me of their pride in having a female candidate. But they also raised concerns about youth voter apathy and how some politicians were using fear over fact, creating a them and us conversation when politicians should be focusing on unleashing the potential of all our people. I could not agree more.
Britain as a barometer for inclusion
Earlier in the week I had been asked to share my experiences as a candidate with political activists in the UK and overseas. The highlight was trying to explain my selection at a public meeting, to female MPs from Algeria and Tunisia. Allowing the community to chose its candidate is, for them, a completely alien concept, just as it is for some British political parties... I heard first hand accounts of the Arab Spring, with young and old joining together risking life and limb for political change, and how British elections are held up as the barometer for inclusion and representation.
I was accompanied by UK university students and, as we stressed that the British parliamentary system has still some way to go to fully represent modern Britain, we wondered how politics would change here if there was a surge in voting.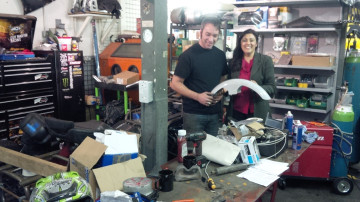 Home-grown talent
Back to the voters in Wealden. To give a boost to my campaign we welcomed a ministerial speaker to galvanise our supporters at a fundraising reception and dinner. Along with my volunteers we hit the streets re-energised and continued our paper and pen campaign to canvass residents.
A welcome stop was at Wealden's first Ogri cartoon café and motorcyclist rest stop. I was given a quick education on Ogri strips as I toured the café's art work and then was taken to the American themed motorbike workshop to see how choppers and bikes are custom built from scratch.
The proud owner showed me his locally sourced parts, creating a truly British handmade bike. I asked him of his greatest fear in setting up his business and he responded that it was getting approval from his wife. I seem to be surrounded by powerful women this week. Can't argue with that.
Nus Ghani is standing for the Conservative Party in Wealden, East Sussex at next year's general election. You can follow her on Twitter @Nus_Ghani or go to the Wealden Conservatives website.