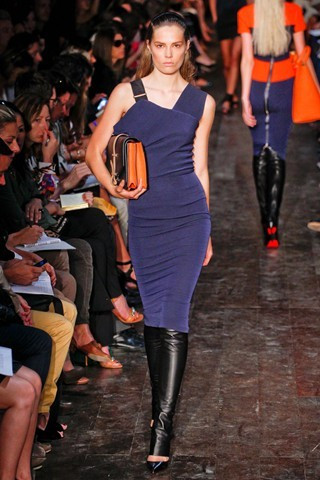 Victoria Beckham unveiled her Spring/Summer 2012 collection in front of the fashion industry's most influential people.
The collection, showcased September 11 at the New York Public Library, received unanimous praise for its "sporty chic" style, said Instyle
Beckham, in past collections has stuck to her trademark silhouette, figure hugging dresses, her new collection marks a substantial change in aesthetics.
Now, the new look encompasses baseball-style caps, looser waist dresses and a splashes of colour even neon.
The influences behind her 2012 vision can be said to be her footballer husband David Beckham, seen by the sports-inspired tailoring.
Beckham's collection, she said, stemmed from expounding upon geometry, and that she did with both a taut, rigid sense of line and, conversely, lush volume.
Join us as we take a look through some of Victoria Beckham's best Spring /Summer 2012 designs!