The New York Police Department (NYPD) has ordered all of its officers to not arrest suspects unless it is "absolutely necessary".
The NYPD memo, which was posted online, outlines a strict protocol that all New York police officers must follow after the shootings of two officers in Brooklyn.
Officers have been told that for at least two units of police officers must respond, whatever the assignment or severity of the call. This means that least four officers will usually attend any police action.
In addition, police officers have been given strict orders to not make arrests "unless absolutely necessary and an individual MUST be placed under arrest".
Liu Wenjin, 32, and Raphael Ramos, 40, were shot dead by Ismaaiyl Brinsley, in an apparent revenge attack for the deaths of Eric Garner in New York and Michael Brown in Missouri. After killing both the officers, the 28-year-old gunman turned the gun on himself.
Commissioner Bill Bratton said that it was the seventh time that NYPD partners had been killed together whilst on duty since the 1970s.
The memo finishes by accusing New York Mayor Bill de Blasio of having his hands "literally dripping with our [NYPD's] blood because of his actions and policies" and that the NYPD is now "a 'wartime' police department" that will "act accordingly".
The memo describes the orders as being "precautions" based on the approach used by police officers in the 1970s when officers "were ambushed and executed on a regular basis".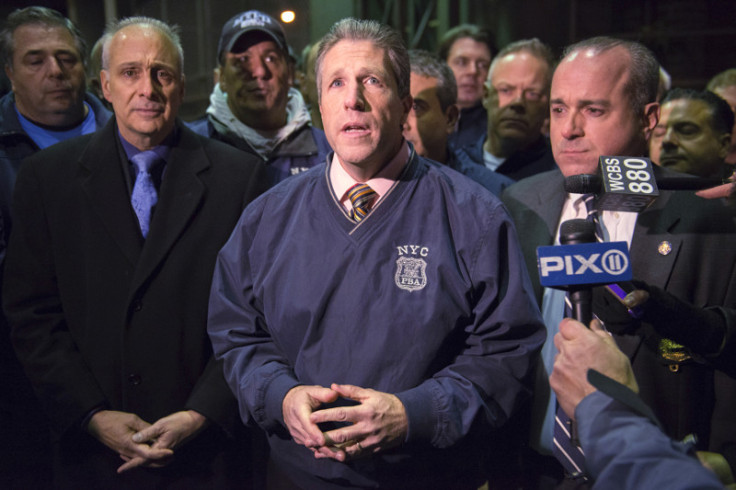 The news website Capital originally released the memo, stating it was from a source within the New York City Patrolmen's Benevolent Association – a group of unions representing New York police officers. However, the association's spokesperson Al O'Leary denied his union sent the memo.
Also, the NYPD's deputy commissioner for public information, Stephen Davis, told Capital, "That is absolutely not a Department directive," but that he did not know if the memo was "sent by Union formally".
It remains unclear how rank-and-file NYPD police officers have reacted to this memo.
The memo comes after the son of one of the murdered police officers, Jaden Ramos, paid tribute to his father, in a moving Facebook message. Ramos describes his father Rafael Ramos as "the best father I could ask for" and praised him for being there for him "everyday of my life".
The heartbreaking message from the distraught police officer's son goes on to say: It's horrible that someone gets shot dead just for being a police officer. Everyone says they hate cops but they are the people that they call for help."
The Facebook post, shared by a large number of friends and supporters, ends: "I will always love you and I will never forget you. RIP Dad."