Eric Garner death: NYPD make 83 arrests following chokehold street protests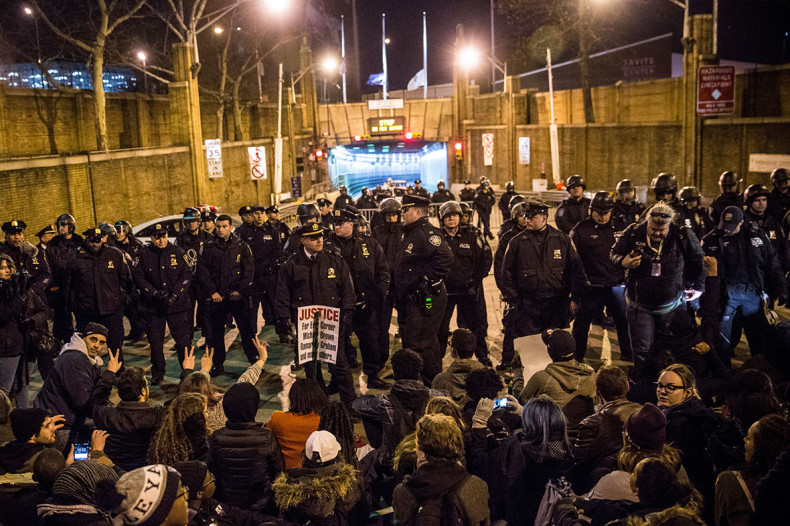 The New York Police Department (NYPD) made 83 arrests overnight following the protests surrounding a Grand Jury's decision not to indict white police officer Daniel Pantaleo over the chokehold death of unarmed black man Eric Garner.
The grand jury decision has led to the US justice department launching a civil rights investigation into Garner's death and caused the mass street protests in New York City.
The incident comes on the back of heightened racial tensions between police and civilians in the town of Ferguson, Missouri, following the decision of another Grand Jury to not indict white police officer Darren Wilson over the shooting of unarmed black teenager Michael Brown.
Demonstrations started immediately after the decision, with protesters blocking a number of streets and marching into Times Square.
The annual Christmas tree lighting ceremony was taking place at the Rockefeller Center and police would only allow access to those with valid passes because of the disruption.
Protesters also staged a lay-down protest in Grand Central Station, spreading their bodies across the floor in solidarity with Eric Garner and protest against the actions of the NYPD.
The fatal 17 July encounter saw a fight break out and Garner attempt to stop it before being approached by police officers who accused him of selling untaxed cigarettes. The incident was captured on video by witness Ramsey Orta, which went viral online.
In the footage, Garner, 43, began to argue with the officers about why he was being targeted before an officer used a chokehold - banned by the New York Police Department (NYPD) - to apprehend him.
An asthma sufferer, Garner can be heard repeatedly shouting "I can't breathe!" shortly before he died.
Police union officials and Pantaleo's lawyer argued that the officer used a legal move taught by the police department because Garner was resisting arrest. They said the main reason he died was his poor health, including asthma and obesity.
Orta was arrested on weapons charges by narcotics police, but he alleges the charges were falsely raised because he shot the viral video.