New York City's finest is once again feuding with City Hall. Hundreds of New York City Police Department (NYPD) officers turned their back on Mayor Bill de Blasio during the funeral of slain Officer Miosotis Familia.
The incident happened during the Tuesday (11 July) service in protest of the mayor's decision to travel to Germany a day after the 12-year NYPD veteran was executed. De Blasio had been criticised earlier by Patrolmen's Benevolent Association head Patrick Lynch, the New York Daily News reported.
Images of the service show several hundred officers standing with their backs to the World Changers Church in the Bronx as the mayor's speech was played on a public address system at the Grand Concourse, according to the Daily News.
De Blasio has been under fire from police unions after deciding to head to Hamburg, Germany to protest the G20 summit. A spokesman for the mayor said he made the trip after learning it would not conflict with Familia's funeral.
Some police officers, however, argued De Blasio should have remained in the city to support the family.
"The mayor is the compass for the city of New York," Lynch said before the funeral. "And unfortunately, when a police officer got killed, his compass led him to Germany rather than here on the (Grand) Concourse.
"He should have been here with the family... He should have been there with us."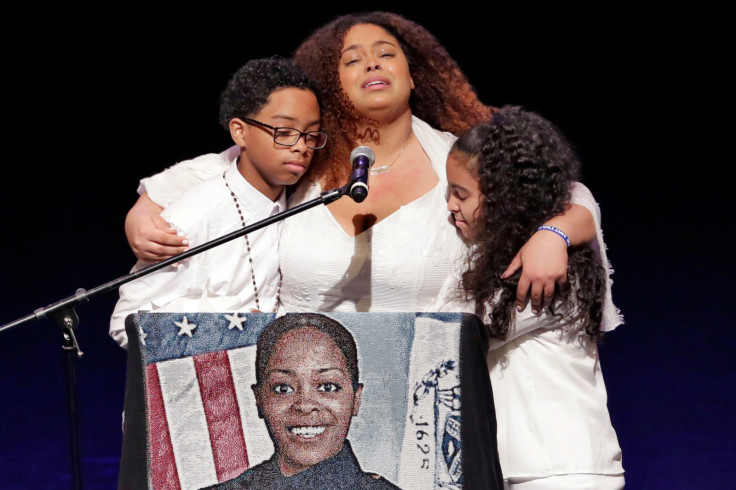 A spokesman for the mayor said: "A couple dozen people showed up to partake in a bogus controversy ginned up by the media and those looking to politicise Detective Familia's death," said Austin Finan.
"That's unfortunate. The mayor, police commissioner and thousands of police officers from the city and beyond attended today's service in solidarity to pay their respects and honour Miosotis Familia."
Sergeants Benevolent Association chief Ed Mullins told the Daily News he was not surprised by the public protest by officers. "The atmosphere with the mayor and the police is definitely strained," Mullins said. "When you look at how he goes over there and protests, while the cops here are battling with protesters every day, you go: 'What is he doing?'
"I talked with hundreds of cops today and they have about had it with the mayor and the police commissioner and their policies. They don't feel that either one of them has their backs. It's very hypocritical."
The Hill noted that NYPD officers made a similar symbolic gesture in the funerals of slain NYPD officers Rafael Ramos and Wenjian Liu in 2014.