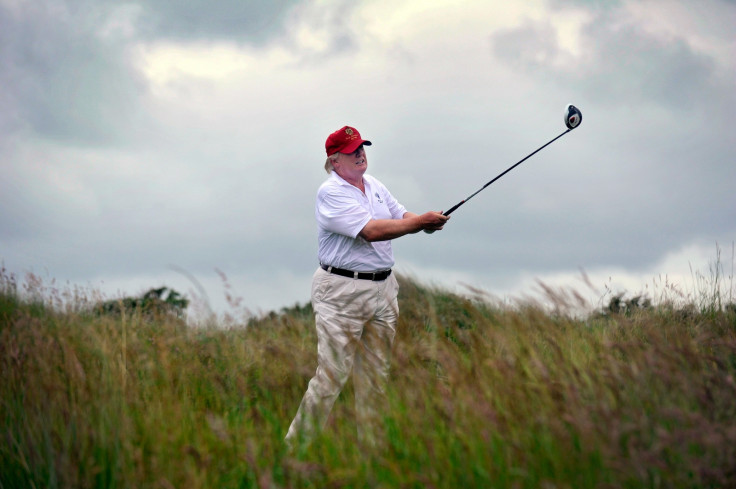 An activist has told a court of feeling "shocked" and "really upset" after learning employees of Donald Trump filmed her urinating on a Scottish golf course owned by the US president.
Rohan Beyts, a 62-year-old grandmother, has begun a £3,000 (€3,500) damages action claiming staff at the Trump International Golf Links at Menie, Aberdeenshire, breached privacy laws by recording her.
The firm – run by Trump before he became the US president – has denied the claims.
Beyts, a long-time activist against the golf course being built, told a small claims court in Edinburgh on Monday (3 April) that she had gone walking with a female friend in April last year and had to pass through the Trump course to access the adjacent beach.
She said she was then forced to hide in the dunes after a medical condition left her urgently needing the toilet.
"I shouted to [my friend] something like 'I need a private moment' and she said something like 'I'll carry on and make sure no-one is around'," she told the court, as reported by The Telegraph.
"I couldn't see anybody, I was convinced of that. I'm not in the habit of urinating when there is anybody in view. I would be horrified. I just squatted down in the dunes."
The retired social worker said she took every possible precaution to avoid being seen in the rainy and misty weather.
She said the pair then continued their walk before a staff vehicle drew up carrying a local photographer, who started taking pictures.
Beyts said the course manager was also present and that the group had a "polite" exchange when the two women were asked their opinions on the course. The two friends then departed and went on their way, she said.
Three days later police officers arrived at Beyts' house in Montrose, Angus, to charge her with urinating in a public place that could cause annoyance following a complaint from the golf course.
Beyts said she was "shocked" and "really upset", adding that she knew she had not done anything wrong.
After speaking with police further, she was told by officers that mobile phone footage existed of her urinating.
While she was reported to the procurator fiscal, no action was taken against her.
Beyts in turn decided to sue Trump International Golf Clubs Scotland, alleging the firm broke privacy laws by filming her without permission or notice.
She said the incident had left her finding it more difficult to urinate outside while on long camping trips.
"I'm always very careful that I am not overlooked," she told the court. "I go to extraordinary lengths – I'm slightly paranoid that there might be somebody hiding behind a tree or something. I sounds ridiculous but that's how I feel."
She acknowledged being an opponent of the construction of the course but said she had a democratic right to object – which she had always done within the law.
Lawyers acting for the Trump organisation dispute the claims.
The court heard from the golf course's irrigation technician, 23-year-old Edward Irvine, who said he had taken a photograph with his mobile phone of Beyts urinating.
He said: "I took her picture for evidence that she was urinating in a public place. I believed that it was a criminal offence to do that."
The hearing continues.