Israelis and Syrians Unite - to Call Barack Obama a Coward [VIDEO]
US president criticised by allies and enemies alike for his U-turn on military strikes in Syria in reprisal for Ghouta gas attack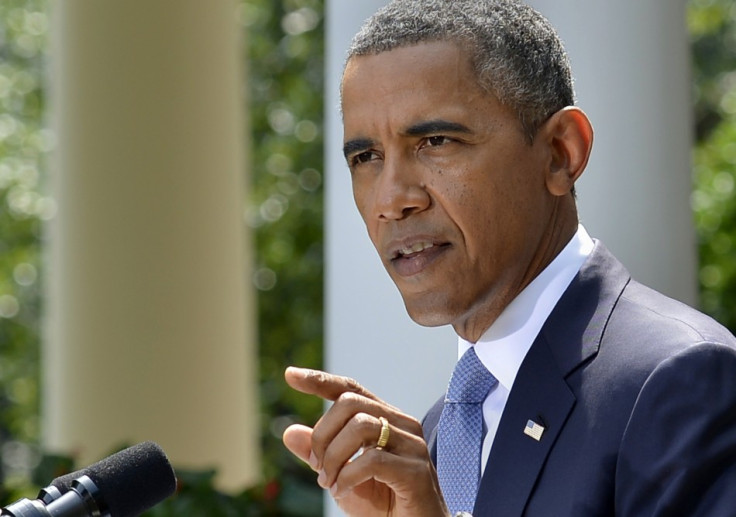 US President Barack Obama has been attacked by Israel for his perceived cowardice towards Syria - and the criticism has been echoed by the pro-Assad population of Damascus.
An unnamed diplomatic source in Jerusalem quoted in Maariv newspaper said that Obama's pledge to put any military action to a vote in Congress - which does not end its summer break until 9 September - showed that he did not want to punish Syria for the 21 August chemical weapons attack in Ghouta.
"Obama is a coward; it is obvious that he does not want to attack and is looking for reinforcement [for this approach]," the official said. "It is hard to believe that after Congress turns down his request, he will go on an operation like this on his own, without support from the international community, without the support of public opinion and without Congress."
The diplomat's words mirror those published in Syria's official al-Thawra newspaper, which called Obama's U-turn an "historic" American retreat.
Syria's deputy foreign minister Faisal Mekdad accused Obama of indecision.
"It is clear there was a sense of hesitation and disappointment in what was said by President Barack Obama,2 he said. "And it is also clear there was a sense of confusion as well."
Obama's dramatic U-turn has been mocked by residents of Damascus' wealthy Mazzeh district, according to AFP.
An employee of national electricity firm Ferdaws said Obama is a "coward" who fears all-powerful president Assad. This stance was echoed by staunch government supporter Hassan Azzam, 73, who told the agency that Obama "was like an actor taking part in a play being shown to the American people" and was "trembling like a leaf as he spoke."
Many residents agree that Obama's decision not to act before Congressional approval was borne of fear of Assad's allies, notably the Lebanese Shiite militia Hezbollah and Iran.
'Calm and self-assured'
The US president's hesitance may have frustrated allies and enemies alike, but Israeli prime minister Benjamin Netanyahu took a diplomatic stance by saying that his country is "calm and self-assured".
"Israeli citizens know very well that we are prepared for any possible scenario. Israeli citizens must also know that our enemies have very good reasons not to test our strength - they know why," Netanyahu said on Sunday at the start of the weekly Cabinet meeting.
However, many ministers in Netanyahu's government take a different view. They include minister of housing and construction Uri Ariel, who said:
"In Tehran they are opening bottles of champagne, and surely shifting into high gear toward nuclear weaponization. Anyone who now believes this president will strike Iran only on evidence that the Iranians have crossed a nuclear red line, is probably hallucinating."
READ:
Syria Ghouta Gas Attack: US Government Unclassified Report [FULL TEXT]
David Cameron Accuses Ed Miliband of 'Siding with Russia' over Syria
David Cameron 'Did Not Want to Act Like Tony Blair' over Syria
Syria: 'Napalm-Like' Bomb Dropped on Aleppo Playground Kills Many Children [VIDEO]
David Cameron a 'Lame Duck Leader' after Historic Syria Defeat [VIDEO]
Assad's Son Hafez, 11, Goads Obama on Facebook to Attack Syria
Syria Strike Could Happen within Week, Says Francois Hollande
© Copyright IBTimes 2023. All rights reserved.