The Office for Rail and Road (ORR), an infrastructure regulator of the government, said it will review Network Rail for falling behind its schedule towards targets set by the ORR.
Network Rail did not deliver accordingly in completing renewals or sharpen punctuality and reliability, both of which are key components of the targets set for 2019. The ORR has expressed fears that projects will be delayed because of slow progression.
The ORR said that train service punctuality remained lower than the set 92.5% target, with 89.6% of trains arriving on time. The regulator added that it had expected a new renewal plan.
It said the investigation into Network Rail's performance improvement plans and delivery of enhancements will "help identify the issues the company needs to address to improve train performance, increase capacity and deliver on its commitments to passengers".
Richard Price, the regulator's chief executive, said that it required Network Rail to keep up with the extreme rise in passenger numbers. He said he was concerned the company is already behind on schedule.
"Network Rail has made a slow start in delivering on its enhancements and performance targets and we have asked it to demonstrate how it plans to get back on schedule to deliver on its commitments to 2019," Price said.
Network Rail reported a 51% fall in pre-tax profit over the last financial year and said that a funding cut by the ORR of £246m ($381m, €340.6m) was to blame for the extreme fall in profit.
Despite a record £3.4bn investment into railway expansion by Network Rail, the ORR blamed the company for slow delivery work, saying that signalling renewals are 63% behind target and overhead line renewals are 77% behind schedule.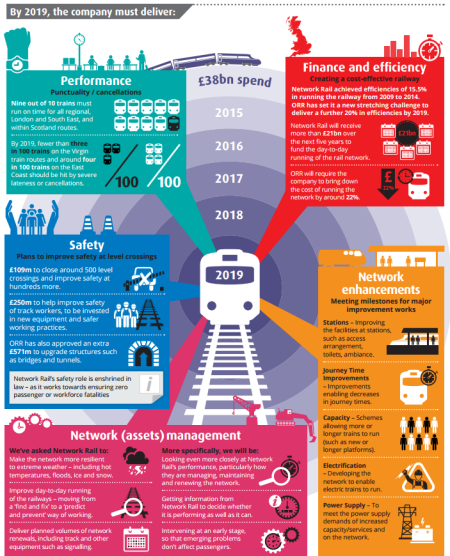 A Network Rail spokesman said in a statement that it is important to keep in mind that the increased passenger amount means that more passengers arrive on time than ever before, despite the company not reaching its relative punctuality target.
He said: "There are clearly opportunities to improve following decades of underinvestment in the rail network. However, it is worth highlighting that we operate the safest passenger network in Europe and the railway asset reliability is the best it has ever been.
"Network Rail's new leadership team, under CEO Mark Carne, is committed to delivering the pace of change required to build a better, more modern network that passengers and businesses can rely on."