An Ohio father of a three-year-old girl is a real hit on social media. Terrel Rico Relz-Crawford has gained international fame after he posted his thoughts on parenting on Facebook.
The heartfelt video, made by the Mansfield native when his daughter had a tantrum at a Walmart store, was shared online earlier in August.
Crawford along with his wife, Ashley Miller, and daughter Ari were shopping at the store when, apparently without warning, the toddler started to scream and cry.
The reason for her tantrum was the parents taking away her mother's cell phone away from her.
In the video, Crawford could be seen having a heart-to-heart conversation with Ari outside the shopping complex while she was seated on the hood of their car.
"Are you going to listen?" he asks her in the video titled When Spoiled Ass Kids Get Told NO In Walmart. "Cause everybody see you acting a fool," Crawford said.
He then tells her that they are not going in until she "stops her mess."
"I'm not taking you back into Walmart until you stop with your mess. We don't have to walk around Walmart with your mother. That's a privilege," the father added.
Crawford further explained in the video, "When you spoil the hell out of your kids, this is what happens. That's our fault for being raised as ghetto kids and never having anything. But see, people don't know how to tell their kids no. ...I don't care if you were growing up with a silver spoon in your mouth. Don't put one in your child's mouth, because this is what happens."
Ari can then be seen ending her tantrum and agreeing to stop screaming in the store.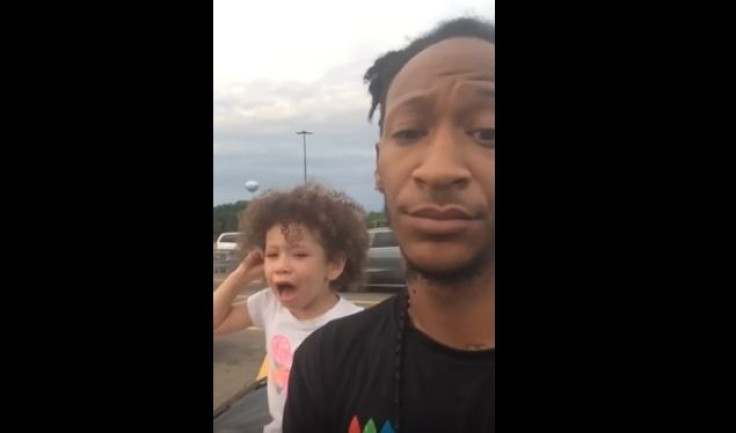 Crawford said that his main motive behind making the video was to teach parents about patience.
"We all learn as we grow. You're learning as a parent just as the child is learning as a child. You are always learning, whether your child is 2 or 22 or 42, you're still learning how to be a parent to that type of child," USA TODAY quoted him as saying.
The video has received an overwhelming response and was shared more than 312,000 times and viewed more than 21m times, which has led Crawford to consider launching a blog on parenting in the future.
He is also planning to host a monthly Q&A session online titled Patience In Parenting.