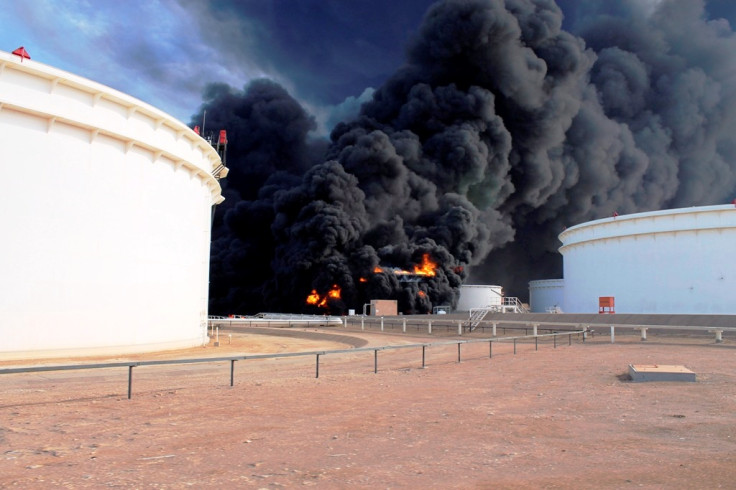 Crude oil traded higher on 29 December as escalating clashes in Libya fuelled speculation that potentially lower supply from the Opec member will help ease the global glut that has weighed on prices.
Brent crude was trading 0.35% higher to $59.66 a barrel at 0943 GMT after hitting $60.40 earlier in the day.
US crude was trading 0.80% higher to $55.17 a barrel after hitting $55.74 earlier in the day.
Daniel Ang, an analyst with Singapore's Phillip Futures, forecast Brent to hover around $60 a barrel and US crude to trade between $55 and $56 this week.
Libya fighting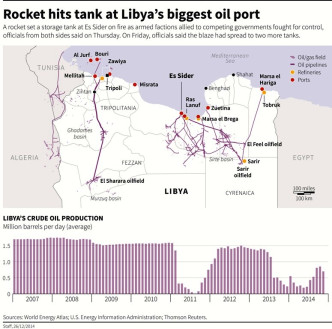 Fires have been extinguished at three of five oil storage tanks at Libya's Es Sider port, the nation's largest oil export terminal, according to a spokesman for the Petroleum Facilities Guard.
But the fires have destroyed 800,000 barrels of crude – over two days of the nation's output – amid clashes between armed factions battling for control of the nation.
China and Japan
Monday's trade also drew support from short covering by traders, and from news that Beijing and Tokyo plan to boost liquidity in the world's second and third largest economies.
In China, the central bank proposes to loosen loan-to-deposit ratios for banks from 2015.
The Chinese economy is expected to expand 7% in 2015, slower than the forecast 7.3% in 2014, according to the State Information Centre of China, a government think-tank.
In Japan, the government has approved stimulus spending worth $29bn, aimed at helping the country's regional economies and households with subsidies and merchandise vouchers.
Tokyo said on 27 December that it expects the package - worth 3.5tn yen ($29.1bn, £18.7bn, €23.8bn) - to boost Japan's GDP by 0.7%.