Japan benefits greatly from oil price fall: BoJ's Haruhiko Kuroda
BoJ Governor urges Japan Inc. to invest in facilities and workers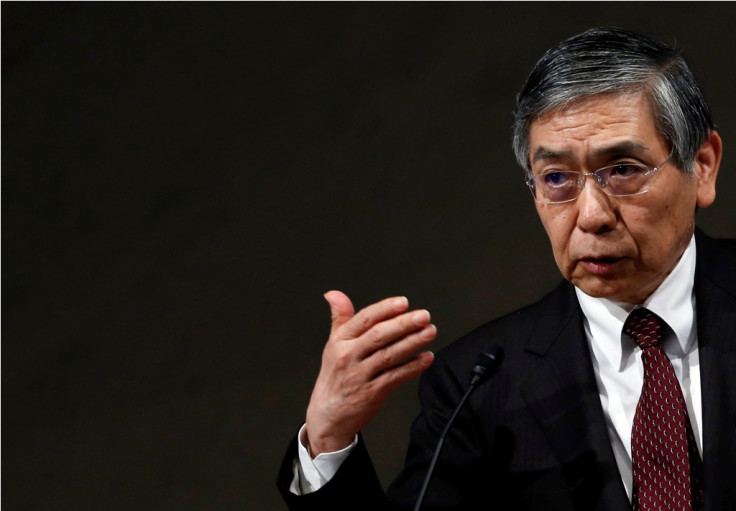 Bank of Japan Governor Haruhiko Kuroda has said that the recent decline in oil prices will greatly benefit the world's third largest economy and help accelerate inflation in the long run.
Addressing a meeting of the Keidanren, Japan's biggest business lobby, Kuroda said while oil price falls weigh on overall prices in the short term, they will help boost corporate profits and allow companies to raise wages.
Kuroda expressed confidence about Japan's economic recovery. He stressed the economy was making steady progress in shaking off the "deflationary mindset" that had forced companies and households to put off spending, in anticipation that prices would fall in the future.
The BoJ chief reiterated the central bank's determination to act again should risks threaten the realisation of its 2% inflation target.
He asked companies to deploy cash and invest more on facilities and workers, urging them to pass on in the form of wage hikes the benefits they had reaped from falling fuel costs and a weakening yen.
Oil prices
"...let me be clear that [October's] additional [monetary] easing was not a response to the decline in crude oil prices itself," Kuroda said.
"Japan, a commodity-importing country, gains a large advantage from the decline in crude oil prices, especially when the decline is caused mainly by supply-side factors such as developments in oil-producing countries as it is this time.
"On the price front, while the decline in crude oil prices puts downward pressure in the short term, it will lead to an improvement in the output gap and to an increase in underlying prices from a somewhat longer-term perspective."
Wages
"I strongly expect that there will be positive effects of the expansion of the QQE on wage negotiations next spring and on firms' price setting. If it is the case, conversion of the deflationary mindset under the QQE will keep going forward. That is the intended effect of the expansion of the QQE.
"Under those circumstances, the positive effects of the decline in crude oil prices will become clear. With the conversion of the deflationary mindset progressing, the decline in crude oil prices will gradually push up economic activity and the trend inflation, and the actual inflation rate will also increase as the short-term downward pressure on prices will dissipate," Kuroda added.
Japan's annual core consumer inflation slowed for the third successive month in October to 0.9%, well below the 2% goal the BoJ has vowed to meet during the financial year beginning April 2015.
The BoJ expanded its massive stimulus programme in October to prevent sliding oil prices and the subsequent slowdown in inflation from dampening inflation expectations.
© Copyright IBTimes 2023. All rights reserved.