The state of Oklahoma has put to death child-killer Charles Warner using a controversial drug last used in the botched execution of Clayton Lockett in April 2014.
Warner had been scheduled to die at the same time as Lockett on 29 April, 2014. He won a temporary reprieve when Lockett, who had killed a 19-year-old woman by burying her alive, showed signs of extreme distress as a lethal drug combination was administered.
He was seen writhing and trying to raise his head. It was later determined that a sedative, midazolam, had failed due to inadequate training and a wrongly-inserted drip.
Warner, who had raped and murdered 11-month-old girl Adrianna Waller, was executed on 15 January, 2015, using the same combination of drugs, but with five times the dosage of midazolam used to sedate Lockett.
When Warner was asked if he had any final words as he was strapped down and had intravenous drips inserted he said: "Before I give my final statement, I'll tell you they poked me five times. It hurt. It feels like acid."
He later added: "My body is on fire. No one should go through this. I'm not afraid to die. We's all going to die."
Once the midazolam took effect, vecuronium bromide and potassium chloride were injected. The execution took 18 minutes. It is not known how much Warner suffered before dying as he was paralysed by the sedative.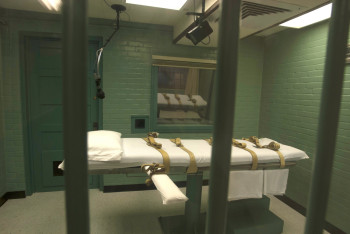 On the same night, Florida man Johnny Shane Kormondy, who raped a woman and killed her husband, was executed by the same method.
In the 32 states in the US where capital punishment is legal, it is becoming harder to get supplies of lethal drugs. This is due to a ban on exports from Europe and legal actions in the US.
Shonda Waller, the mother of the baby Warner murdered, had said earlier she didn't want Warner executed.
"I can only see him spending the rest of his life in prison and dying in prison without him ever walking outside of those cell walls. I don't see any justice in just sentencing someone to die," said Waller.
"To me, the justice is in someone living with what they have done to you, to your family, and having to live with that the rest of their life knowing they will never get to walk out those doors."
Amnesty International has repeatedly condemned the US for reinstating capital punishment. Since 1976 almost 1,400 people have been executed in the US.