Oldest known person Misao Okawa passes away at 117 years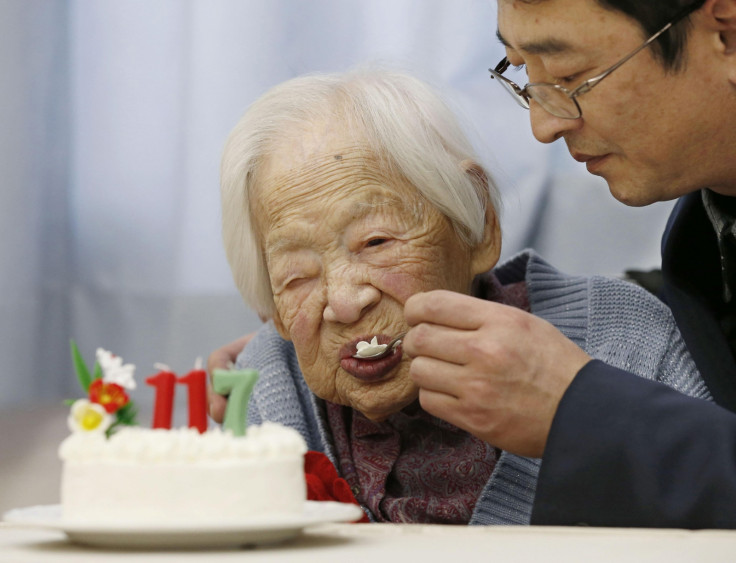 The world's oldest person Misao Okawa, aged 117, died in Japan early on 1 April at the nursing home in Osaka she lived in.
Okawa, a mother of three, grandmother of four and great-grandmother of six, had celebrated her birthday just last month. She was the daughter of a kimono-maker.
Her surviving son and daughter are now aged 94 and 92.
At 114, she was officially recognised by Guinness World Records as the oldest woman alive. She became the oldest person alive after the death of another Japanese, 116-year-old Jireomon Kimura in June 2013.
The world's oldest man is also another Japanese, Sakari Momoi, who celebrated his 112th birthday in February.
With Okawa's death, the world's oldest person is now 116-year-old American Gertrude Weaver.
In 2013, average life expectancy for women in Japan was 86.61 and 80.21 for men, the fourth longest, after men in Hong Kong, Iceland and Switzerland.
Japan is home to 54,397 centenarians, including 282 super-centenarians, who have reached the age of 110.
While some place the national longevity to Japan's healthcare system and support for the elderly, and a healthy diet consisting of rice, fish and fruits, others believe good mental health and psychological adaptations also have helped.
In her conversation with Telegraph last year, Okawa whose favourite meal was sushi, had attributed her longevity to eating and sleeping well.
Research has also suggested that people who were in middle-age during the years of food shortages in the Second World War period have emerged winners in long-term health.
Scientists from Stanford University, the Institute for Systems Biology in Seattle, and the University of California Los Angeles who undertook whole-genome sequencing on 17 super-centenarians to study genetic roots for longevity returned no significant findings.
© Copyright IBTimes 2023. All rights reserved.