Jerusalem's Olive Trees from Biblical Era Oldest on Earth [PHOTOS]
Olive trees at the Garden of Gethsemane in Jerusalem are among the oldest trees on earth, a new study reveals.
Researchers identified the health, origin and age of eight olive trees in the Garden of Gethsemane in a three-year study to come up with protection measures to conserve this unique biodiversity, which is of both scientific and religious significance. According to the gospels, Jesus Christ prayed the night before crucifixion around these trees and the New Testament suggests Jesus frequently visited the place. In the Christian tradition, the eight olive trees are believed to be the only living witnesses of Christ's passion, that night of prayer and his arrest by Judas.
Although the eight olive trees, around 900 years old, cannot be the same as Jesus, they belong to the same lineage, according to the researchers at Italy's National Research Council.
"When researchers realised the genetic profile or the genetic fingerprint (fingerprinting) of the eight plants, the analysis of some regions of DNA showed similar genetic profiles between individuals and there were no differences in allelic profiles, even among leaf samples taken from different parts of the canopy. This means that the eight plants were propagated by the same genotype and are therefore among their brothers," Antonio Cimato, coordinator of the research team from the National Research Council, said in a statement.
The results led researchers to conclude that contrary to earlier belief, the eight olive trees at Gethsemane were planted by humans and did not grow spontaneously. Radiocarbon dating of the trees' parts above the ground further suggested that they belonged to 1200AD.
"This means that the plants in the Garden hours are not the same according to the tradition witnessed the agony of Christ," Cimato said, adding that since it was not possible to perform analysis on the roots, scientific data of aboveground parts suggested these ancient plants were probably among the oldest in the world.
The trees have remarkably survived centuries because they have not been affected by environmental pollution. Separate tests have also shown that none of the eight plants are infected by viruses or pathological changes. With the new finding, researchers hope to restore the longevity of the Holy trees for several generations.
"To the Custody of the Holy Land, the research group will provide technical proposals to ensure over time the protection and conservation of the eight olive trees gathered in the Garden of Gethsemane and integration actions in support of the Christian community in the Holy Land," the researchers concluded.
Have a look at the trees in photographs below.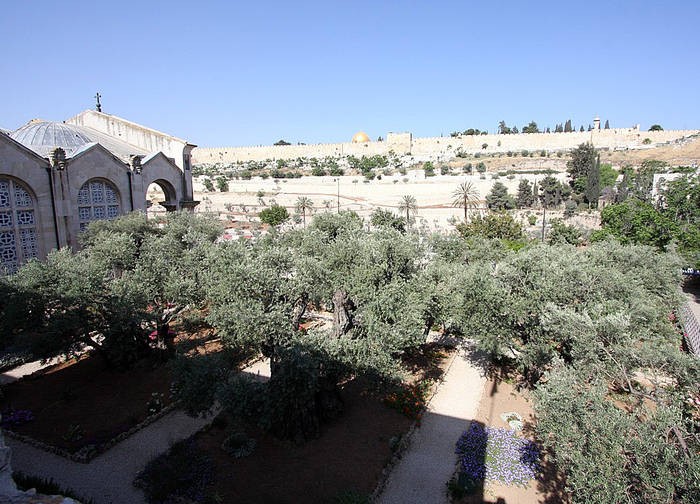 © Copyright IBTimes 2023. All rights reserved.