Ukip had grand plans for the north of England. The party's anti-mass immigration policies and no-nonsense leader Nigel Farage would allow the Eurosceptics to win over white-working class voters in a bid to become the established alternative to Labour across the region.
With numerous second places in the bag from May, the Oldham West and Royton by-election gave Farage and his acolytes an early chance in the parliament to bolster their support in post-industrial Greater Manchester. Farage even talked of "hundreds" of votes deciding the contest, and privately Ukip campaigners were confident of slashing the late Michael Meacher's majority down to a few thousand.
The rise of Jeremy Corbyn apparently gave them the perfect villain to rail against. The Labour leader is a life-long republican, wants to block the renewal of the Trident nuclear deterrent, and lives in a now plush part of London near Finsbury Park. The 66-year-old has all of the credentials of the "Westminster elite" and featured prominently on Ukip posters as a "security risk".
It is on those grounds that Farage and his supporters attempted to turn the by-election into a referendum on Labour's leadership. John Bickley, a Mancunian businessman turned Ukip treasurer, was selected to take on Labour after putting the scare on Corbyn's party at the 2014 Heywood and Middleton by-election where he slashed Labour's majority to just 617 votes.
Bickley wasn't Corbyn, he "believed in Britain" and he wanted to scrap a £36.7m ($55.4m) cinema project for Oldham. This manifesto, with the standard "we want an Australian-style points based immigration system" rhetoric, was the main message from Ukip.
'Not Jez, just Jim'
The problem for the Eurosceptics was that Oldham Council leader Jim McMahon, a Labour moderate who backed Liz Kendall in the party's leadership election, had fought off a bunch of left-wing rivals to secure his party's nomination. McMahon, the local son of a truck driver, was the perfect counter to Ukip's anti-Corbyn attacks.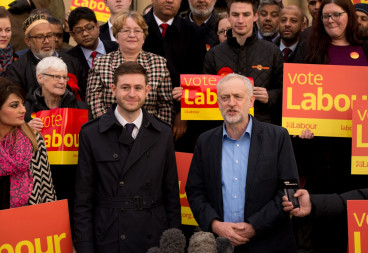 Labour, with decades of experience in how to win in Greater Manchester, then went into campaign mode. Even left-wing pressure group Momentum dispatched "five bus loads" of activists to the constituency in a bid to overwhelm Ukip in the so called "ground war".
The results were spectacular as McMahon, on admittedly a lower turnout than May, had been able to increase Labour's share of the vote in Oldham West and Royton. Meacher secured a solid 54.8%, McMahon garnered a staggering 62.1%.
The US-style anti-Corbyn campaign had failed for Ukip. Bickley still came second but he only managed to increase his party's share of the vote by 2.8%. Following the result, Farage seemed to spiral into a frustrated state.
The Ukip leader made serious allegations that Labour's victory was "bent". He claimed there were "abuses" of the postal vote system, threatened to file an official complaint, and suggested "ethnic changes" had undermined Bickley's performance at the ballot box. Ukip, at the time of writing, are apparently reviewing their "evidence" of fraud.
The party would also be wise to launch an internal inquiry into their by-election performance. Undoubtedly an honest assessment would conclude that Ukip's drop in donations and dip in membership figures means that the party isn't the electoral force it was in 2014.