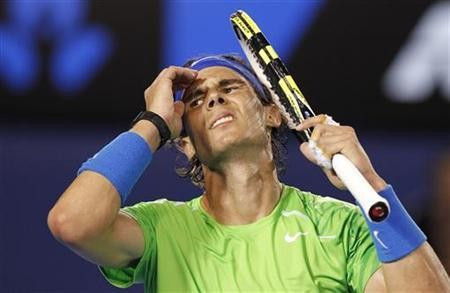 Rafael Nadal has pulled out of the 2012 London Olympics, with the reigning champion citing a knee injury and admitting he isn't in the right condition to compete in the tournament.
Nadal won Gold in the 2008 Beijing Olympics, and was widely tipped as a favourite this time around, despite his shock early exit from Wimbledon in June.
The Spaniard was also planning on carrying his country's flag in the Opening Ceremony, and Nadal expressed disappointment at not being able to defend his medal.
Nadal had insisted he would aim to recover in time for the Olympics, telling reporters: "I am doing everything possible to recover. After Roland Garros I had a difficult time, but the excitement is at its maximum, I am working as hard as I can and hopefully I will be at 100 per cent.
"I am the one who is most worried. I hope that things improve and my intention is to arrive in London well prepared and recuperated. It is for this that I work every day."
But with injury taking its toll and proving too much for the 11-time Grand Slam winner, he says this is one of the 'saddest moments of my career'.
"I am not able to compete at the Olympics in London and therefore will not be traveling as planned with the Spanish delegation," he said in a statement on the Spanish federation (RFET) website.
"I have to think about my colleagues. I cannot be selfish and I have to think of the good of Spanish sport, especially Spanish tennis, and let a team-mate who is better prepared to compete.
"I've waited until the final moment of my preparation and my training, but I cannot do it."