Liam Tancock and Gemma Spofforth both finished in fifth place in their respective 100m backstroke finals as Team GB's swimmers failed to follow up on the momentum that had been handed to them by the men's gymnastics team.
After Louis Smith and co shocked everyone to land a surprise bronze medal, both Spofforth and Tancock were hoping to add to the medal haul on day three of the London Games.
Spofforth was the first to compete in the final of the 100m backstroke and despite a superb first length, it was American teenager Missy Franklin who took the gold with a time of 58.33, while Australia's Emily Seebohm claimed silver.
The Australian swimmer had dominated in the early rounds, but seemed to feel the pressure in the final as she finished just ahead of Japan's Aye Terakawa who took bronze.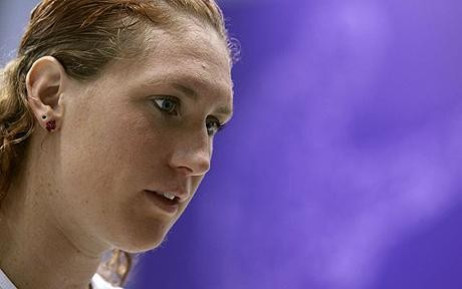 "I've always said it's the journey and not the destination. I am disappointed but everything happens for a reason and I am just really enjoying my swimming right now.
"I have been rock-bottom but it's great to be back enjoying life again and have my passion back for life and swimming. Training with Ryan [Lochte] and working with Olympians is what really inspires me and I work with children back at home and want to inspire them."
Tancock was next up and the 27-year-old was hoping to transfer his 50m speed into the longer distance but he was unable to live with the pace of the giant American swimmer Matt Grevers.
The 6ft 8" Grevers led from the front and ended up taking the gold with ease from fellow American Nick Thoman, with Japan's Ryosuke Irie claiming the bronze.
"I went out there and gave it everything, it didn't quite come off for me but Rio is only four years away. I just love what I do, swimming is an amazing sport. It's an absolute dream to swim in a pool like this, in front of a crowd like this.
"I was walking before and saw the poster about inspiring future generations and I hope we are doing that, not just me but the whole of team GB, hopefully we will inspire the next generation of swimmers."
Elsewhere there was no more success for Ryan Lochte who finished in fourth place in the 200m freestyle as France's Yannick Agnel obliterated the rest of the field to win by a clear margin.
There was a share for silver with China's Yang Sun and South Korean Taehwan Park finishing in a time of 1:43:93, while Britain's Robbie Renwick was sixth.
However, there was some good news for Team GB with Caitlin McClatchey qualifying for the 200m freestyle final after leading for much of the race before eventually being overtaken by world champion Federica Pellegrini.