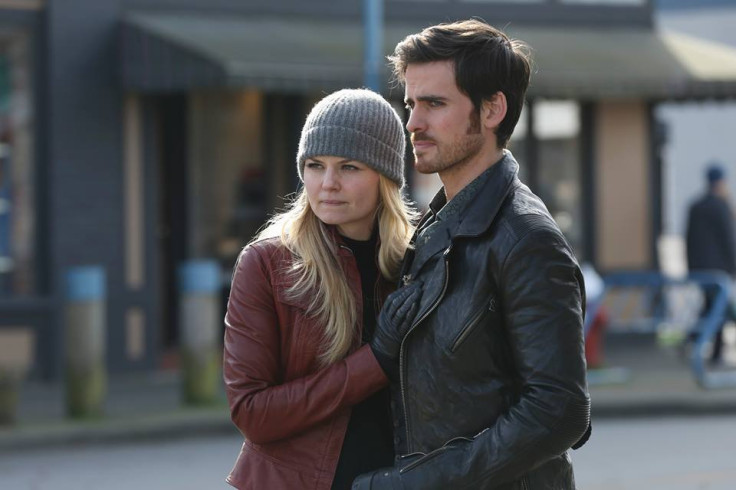 Emma Swan and Hook's relationship in Once Upon A Time have been nothing sort of a rollercoaster ride, but the couple will finally get their happily ever after in the musical episode of OUAT season 6 airing on 7 May at 8pm EST on ABC Network.
The episode is titled, The Song In Your Heart, which is set to feature seven original songs penned by Alan Zachary and Michael Weiner, with help from OUAT's long-time composer Mark Isham. Jennifer Morrison, Colin O'Donoghue, Lana Parrilla, Ginnifer Goodwin, Josh Dallas and Rebecca Mader are confirmed to sing in the episode.
Entertainment Weekly (EW) has released the first look at the musical episode featuring Emma walking down the aisle with her parents Snow White and Charming beside her. Emma's prophesied death and the ultimate showdown with the Black Fairy will not dim the couple's happy day.
Executive producer told EW, "Emma knows the Final Battle is in front of her, but she, in this moment, is brave and is not going to let the troubles of whatever they're dealing with get in the way of her happiness. She's truly following her mother's advice to live her life."
Adam Horowitz added, "She either dies, or she doesn't die, or something else happens."
"In our minds, the Final Battle is probably not what you think it is. Like any good battle, sometimes it's not a battle in the literal sense of a fight," Kitsis said. Horowitz added, "It is a battle, it is different than the ones we've seen before, and it is very personal to Emma."
Previously, Kitsis told TV Line that the wedding will mark Emma and Hook's affirmation of love. He told the outlet, "For us, the most important thing [about the wedding] is that it was intimate and that you really understood that this was a real milestone in Emma's growth. Hopefully to make some people cry!"
The producer also talked about whether their wedding will be interrupted like that of Snow and Charming's. "Weddings on the TV series Once Upon a Time traditionally are fraught with unexpected circumstances. And this is no different," Horowitz explained.