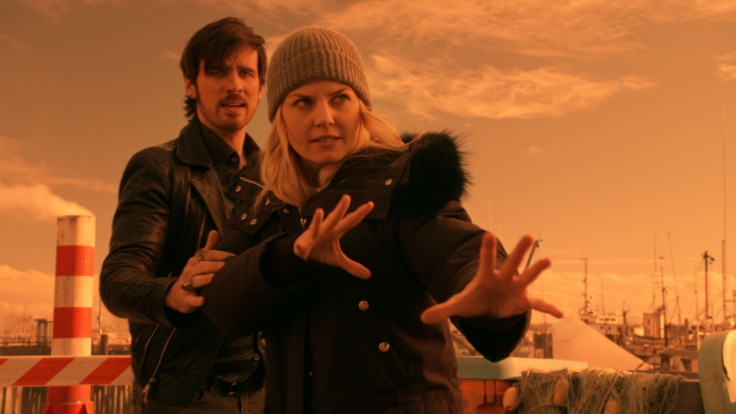 Filming for Once Upon A Time season 6 is underway and actors Jennifer Morrison (Emma Swan), Colin O'Donoghue (Captain Hook), Jared Gilmore (Henry Mills) were spotted filming a scene together in Vancouver.
While Emma and Hook are seeing in black jeans and black jackets, Henry is seen walking around Storybrooke in casual blue jeans and a checkered red shirt. Although the actors are seen in animated laughter on the sets, it seems like fans can expect their favorite heroes to go on another mission together.
Lina Parilla, who plays Regina/Evil Queen on the show, was also spotted filming at the same location. In the leaked images she is seen leaving the sets in her car.
Season 6 of OUAT will introduce Land of Untold Stories where the show would "explore multiple fictional lands". Disney characters Alladin and Jafar will also feature in season 6, while Regina's alter ego Evil Queen will wreck havoc in Storybrooke. Actor Deniz Akdeniz has been roped in to play Aladdin and Oded Fehr will play villain Jafar. Galavant actress Karen David will play Princess Jasmine on the show.
At the recently-concluded San Diego Comic-Con, Lina Parrilla and Morrison teased the Evil Queen and Emma's relationship in OUAT.
Although Emma and Regina's friendship has strengthened over the years, the Evil Queen does not feel the same way. Parrilla told Entertainment Weekly,"These women have grown so much over the years and they've become best friends. They're working together and I think Emma has really helped Regina get to this new place in her life. Emma has saved her many times and vice versa. I see them continuing down that path. The Evil Queen is another entity in itself."
However, Morrison added, "It's going to be complicated for Emma to navigate because she wants to believe in Regina and knows that good can win, but she also knows she needs to protect everyone she loves. It's going to be complicated like it always is."
Once Upon A Time returns with season 6 on 25 September at 8pm EST on ABC Network.