A Columbian described as one of the biggest cocaine dealers in history has been jailed for 35 years for his role in delivering drugs across the world. Daniel Barrera, 48, also known as El Loco, was jailed for what Manhattan judge Gregory Woods described as "staggering" crimes he committed while becoming one of the world's leading cocaine producers and traffickers.
Prosecutors described how Barrera's cocaine operation spanned across four continents, distributing around 400 tons of cocaine annually from 1998 to 2011 with the help of terrorists and drug cartels.
Woods, who also fined Barrera $10m (£7.6m) and ordered him to repay the same amount, described the cocaine dealer as a "smart, talented, maybe even gifted man" who rose to head one of the world's most dangerous drug trafficking gangs. Woods added: "He is dangerous. ... Too short a sentence would provide him the opportunity to commit additional crimes."
The judge imposed the lengthy sentenced despite Barrera's defence team's request for leniency on the grounds he cooperated with authorities urging others in his operation to surrender and had rescued victims of kidnappings.
Speaking through a Spanish translator in the court, the 48-year-old said he also wanted the opportunity to be see his grandchildren again following his release from prison. Barrera said: "I ask for my family's forgiveness for all of the suffering I have caused them."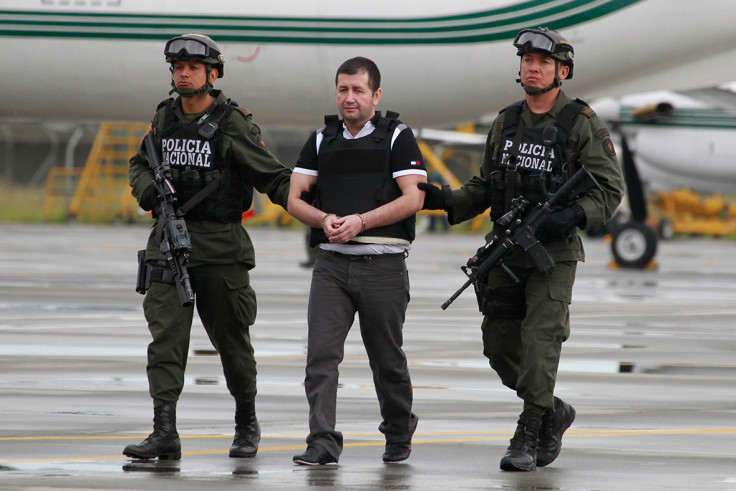 Barrera went on the run after the US Treasury Department placed him top of its list of most-wanted Colombian narcotics traffickers in March 2010
During this time, Barrera altered his appearance through plastic surgery and burned his fingertips to avoid being identified. He was eventually arrested in 2012 while making a call from a phone box in the Venezuelan city of San Cristobal with the help of surveillance by the CIA, MI6, Colombian intelligence and Venezuelan forces.
Speaking at the time of his arrest, Colombian President Juan Manuel Santos said: "One of the last great bosses has fallen. He was perhaps the most wanted drug lord in recent times."
Manhattan US Attorney Preet Bharara added: "The man Colombian authorities have called 'the last of the great kingpins,' now stands convicted and sentenced in an American court of law."