Around 750,000 fake Twitter accounts being controlled by a single individual for the purpose of spreading "miracle diet pill" spam has been uncovered.
The operation, described in a white paper published by Symantec on 25 March, continued for over a year before the micro-blogging site brought it to an end.
"One of the most interesting aspects of this spam operation is the preservation and recovery tactics employed by its operator in order to avoid anti-spam measures," the paper states. "These tactics explain how this operation was able to persist for so long."
To avoid detection, the spammer developed an elaborate scheme to peddle a diet pill known as Green Coffee Bean Extract.
By impersonating celebrities and brands, such as MTV and CNN, the spammer was able to trick Twitter users into following the fake accounts, before posting spam.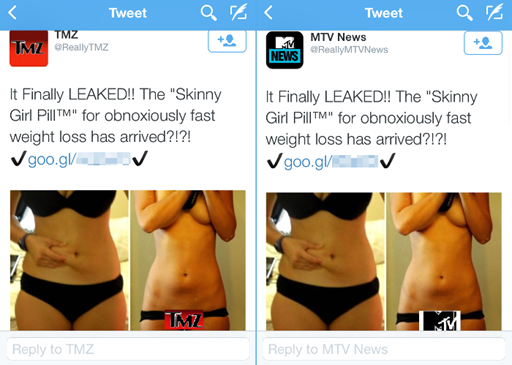 Further accounts, known as Egg accounts, were created for the sole purpose of boosting follower numbers of the impersonator accounts in order to give the impression of legitimacy.
For each tweet that led to a successful referral, the spammer reportedly earned a commission from the sellers of the Green Coffee Bean Extract pill.
"When you consider that Americans spend US$2bn annually on dietary supplement pills for weight-loss, it is no wonder that scammers are also trying to cash out on this trend," Symantec concluded in its white paper.
"These scammers have been relentless and run the gamut from Instagram to Snapchat and through compromised accounts on Twitter, Pinterest, and Tumblr."
To avoid falling victim to spammers, the white paper outlines a number of methods that Twitter users can adopt.
These include checking for the blue "verified badge" of brands and celebrities, being sceptical of new followers and the number of followers other users have, and keeping in mind that there is no such thing as a "miracle diet".