Police in New York State say they have arrested three men that were in possession of 1m doses of the lethal painkiller fentanyl, enough to kill "hundreds of thousands" of addicts.
Authorities in Long Island announced on Saturday (28 October) that they had seized 750 grams of the synthetic prescription opioid from a home in Mastic Beach.
Fentanyl is used by some drug dealers to add to heroin or cocaine to increase either drug's potency, but has been implicated in the deaths of thousands of drug-users.
Often dealers use the dark web to order super-strength fentanyl from the far east and Suffolk County Police Commissioner Timothy Sini said the extremely potent Long Island batch was shipped from China.
Sini said according to CBS News that the haul was enough for one million doses on the street that was "potentially enough fentanyl to kill hundreds of thousands of individuals".
Three men, Corey Robinson, 24, Thomas Moore, 41, and Daequane Rickenbacker, 25, were arrested at a house on Edwards Avenue, and were charged with different offences.
Robinson was charged with criminal possession of a controlled substance, Moore charged with obstructing government administration, while Rickenbacker was charged with loitering.
Police say they also recovered $7,400 (£5,636) in cash, numerous 9 mm rounds, two mobile phones and a 2007 Mercedes Benz.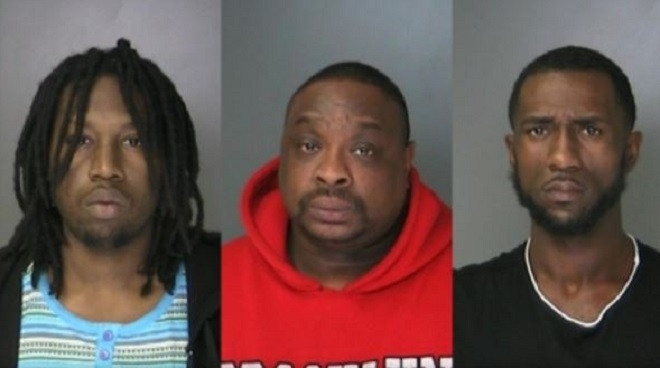 Moore's charge stems from the accusation that he released a pit bull from a leash which charged at officers as they approached the building. Police shot the dog and it was treated at a local vets.
The US is in the grip of an opioid crisis and the government said that more than 20,000 Americans were killed by fentanyl and fentanyl analogues in 2016, a four-fold increase since 2014.
"Fentanyl is 50 times more potent than heroin and 100 times more potent than morphine," asserted ICE acting deputy director Peter Edge.
Increased attention is being paid to the drug by US authorities with five law enforcement teams being sent to US cities to help stem the flow of the drug.
Earlier this week pink stickers that looked akin to something you might find in a children's magazine were found to contain potentially lethal doses of fentanyl in the US.
Last week President Donald Trump declared the opioid epidemic a national public health emergency but was crticised for failing to make any substantial extra funds available to combat the crisis.