After a man was gravely injured in a shooting in downtown Charlotte, North Carolina's governor declared a state of emergency and sent in the National Guard to quell a second night of violent protests over the police shooting of another African American.
The shooting occurred as hundreds of protesters streamed toward downtown hotels as police in riot gear fired tear gas and attempted to block their progress amid skirmishes, sporadic looting and smashed windows.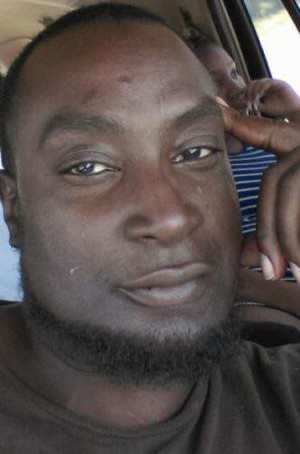 At one point protesters attempted to storm the Omni Hotel, CNN reported. That's when a man at the protest was shot.
The unidentified victim was on life support, said city officials, who had initially reported he had died. Police were not involved in the shooting.
The city issued an "alert" tweet that the shooting was "civilian on civilian" and that police "did not fire shot."
City officials had hoped for calm on Wednesday (21 September), and several religious and community leaders had appealed to marchers to remain peaceful as they again protested the fatal police shooting of Keith Lamont Scott, 43, a father of seven.
Scott's wife, Rakeiya, who called him a "loving husband, father, brother and friend who will be deeply missed every day," also asked for calm.
"As a family, we respect the rights of those who wish to protest, but we ask that people protest peacefully. Please do not hurt people or members of law enforcement, damage property or take things that do not belong to you in the name of protesting," her statement said.
But the protests quickly spiralled out of control with pockets of ugly confrontations between police and demonstrators on the streets. Six officers and two civilians were injured.
Mayor Jennifer Roberts desperately pleaded with demonstrators to heed calls from Keith Lamont Scott's family and the NAACP to remain peaceful.
"Go home and tell everyone violence is not the answer. The investigation is ongoing, it will be transparent," she said in a phone call to CNN.
Governor Pat McCrory said he launched efforts to deploy both the National Guard and state troopers to restore order to downtown Charlotte in response to a request from Charlotte-Mecklenburg Police Chief Kerr Putney.
"Any violence directed toward our citizens or police officers or destruction of property should not be tolerated," the governor said in a statement. "I support and commend the law enforcement officials for their bravery and courage during this difficult situation."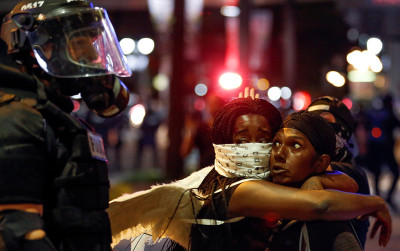 The shooting of Scott was the most recent in a series of police shootings of black men, and the Charlotte violence was beginning to echo some of the worst street violence of 2014's protests against the shooting of Michael Brown in Ferguson, Missouri.
The police and family have very different versions of what happened when Keith Lamont Scott was killed Tuesday (20 September). Police state that while they were searching for a suspect outside an apartment complex in the city, Scott emerged from his parked car with a gun and threatened them. Scott was not the suspect they were seeking.
But a woman identifying herself as Scott's daughter said her father — whom she described as disabled — was sitting in his car reading a book as he waited for a school bus to drop off his son. She said police tasered him and shot him four times as he emerged from the car.
"The police just shot my daddy four times for being black," she said in a video of the aftermath of the killing that has been widely circulatied on social media.
"I can tell you a weapon was seized," Chief Putney said at a press conference. "I can tell you we did not find a book."
Putney said Scott was given several warnings to drop a handgun he was holding inside his car, but instead he exited with the firearm in his hand in a threatening manner.
He was shot by black officer Officer Brentley Vinson, who has been with the department for two years. Vinson has been placed on administrative leave while the case is investigated.
Putney and Charlotte's mayor said there was a video of the incident that investigators are examining. It has not been released to the public.
Civil rights activists said at their press conference that police killed an innocent man.
Nation of Islam activist BJ Murphy called for an economic boycott of Charlotte. If black lives don't matter, Murphy said at the press conference, black money shouldn't matter.
CBS News said court records show that Scott had a criminal record which includes an assault conviction.