While a website indicating that OnePlus was working on a tablet has been shown to be a fake, one fan has already created a concept image of what such a tablet could look like.
OnePlus is a new Chinese smartphone manufacturer which has produced one of the most talked-about consumer devices of 2014 in the OnePlus One, a budget smartphone dubbed the "flagship killer".
It has received rave reviews from journalists and customers alike for its combination of budget price (£229) and superb hardware specs and design.
The OnePlus uses a customised version of CyanogenMod - the open source operating system based on Android.
Invite only
While the phone has been a critical success, the company doesn't have enough devices to meet demand and only those with a special invite are able to purchase one of the new smartphones.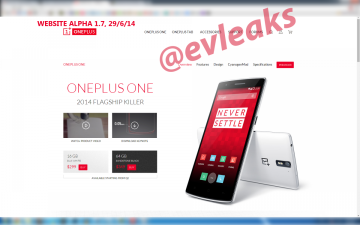 On Wednesday, US journalist Evan Blass posted what he claimed was an image of the OnePlus website (left) showing a link to something called the OnePlus Tab, which saw everyone suggesting that the Chinese company was working on a tablet to go with its smartphone.
However Blass himself updated the post on Thursday with a quote from OnePlus which read: "No tablet coming out – photo was photoshopped."
However that has not stopped some OnePlus fans from using their imagination and creating concepts of what a OnePlus Tab could look like.
In this video YouTube user Canoopsy has created a version of the OnePlus Tab based on the design and look of the OnePlus One smartphone.
It is unclear if OnePlus has any plan to actually create a tablet, but considering the overwhelmingly positive reaction to the company's smartphone, then it is a safe bet to say that there would be a ready-built customer base for the device.