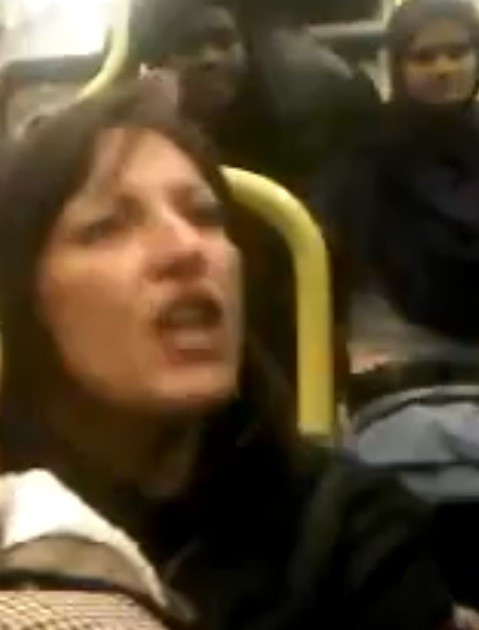 A video featuring a woman launching into a racist rant on a south London tram has gone viral less than 24 hours after it was posted online.
The two-and-a-half-minute clip, which shows a white woman hurling verbal abuse at black, Polish and foreign commuters on board the tram, has sparked unprecedented outrage since it surfaced online.
Complaints have flooded in from across the country after social networks and Blackberry Messenger helped the offensive clip circulate.
Enraged viewers, left furious by the clip of the woman swearing and telling fellow black and Asian passengers to "go back to where you come from!" while holding her young child in her arms, have now taken to social networking sites such as Twitter to vent their anger.
One Twitter user wrote: "Damnit now I'm all angry. Hatred fuelled by ignorance is one of the things that really irritates me. #racisttramwoman [sic]."
While another tweeted: "Yup, hope social services take the child away from the #RacistTramWoman.... and the social workers are black... oh the pain n shame [sic]."
The unidentified British woman launched into the unprovoked verbal attack on board the packed carriage after she appeared to become restless at the amount of ethnic minorities in her "British country."
Members of the community are now calling for this woman to be arrested and punished for her outburst.
Transport for London (TfL) announced that the incident is currently under investigation.
A TfL spokesperson released a statement saying: "All of our customers have the right to use our services without fear of being abused. TfL will not tolerate this disgusting and offensive behaviour and we will work with the police to fully investigate this incident.
"London Tramlink has a dedicated team of police officers who patrol the network and we would like to assure all our customers that we will continue to do everything we can to ensure that they can travel safely. We would appeal to whoever posted the video to contact us in confidence."
Commenting on the incident, a British Transport Police spokesman said: "The video posted on YouTube and Twitter has been brought to our attention and our officers have launched an investigation.
"At present it is not entirely clear which tram stops the offence took place between and when it occurred. As a result, we need anyone who witnessed this incident, or with any information that could assist our investigation - including the identity of the woman - to contact us.
"We will not tolerate racism in any form on the rail network and will do everything in our power to locate the person responsible," he added.