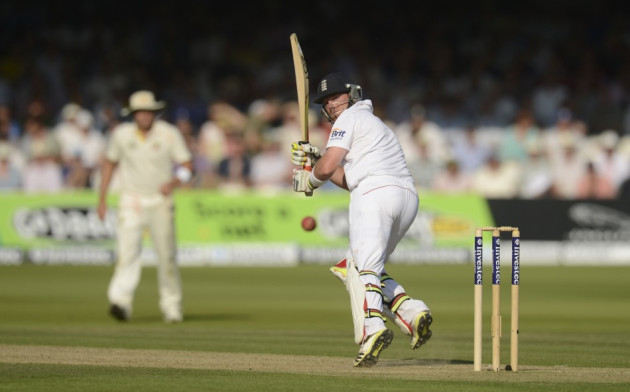 A third consecutive Ashes hundred from Ian Bell on the opening day of the second Test at Lord's steadied England after a shaky start before three late wickets from Australia's Steve Smith knocked the wind out of hosts' sails.
Smith handed the momentum back to the tourists after Bell's impressive innings with his late hat trick, removing Bell (109), Jonny Bairstow (67) and Matt Prior (6) as England finished the afternoon 289-7.
England lost three wickets in quick succession within the first half hour of the Test from just 10 deliveries after winning the toss as Alistair Cook (12), Joe Root (6) and Kevin Pietersen (2) were dismissed by Shane Watson and Ryan Harris as the Queen watched on from the stands.
Watson, who has spent the week at the centre of alleged infighting within the Australian camp, quickly dismissed the England skipper in his first over, who would soon be followed by Root. The 22-year-old was given out leg-before, a decision which was held after a swift review by third umpire Tony Hill.
After dismissing Root, Harris, who replaced Michael Starc in the starting XI, made quick work of Kevin Pietersen, catching out the England batsman with a vicious outswinger.
Bell stepped in after Australia's rampant start in the most uninspiring circumstances, but proceeded to haul his side out of trouble. The Warwickshire man struck a superb 109 to lift the mood around Lord's, sharing a 99 with Jonathan Trott before contributing a 144 with Bairstow before Australia began to make inroads once again.
Smith waited until the 77th over to get to work but proceeded to reduce England's haul for the day, finding Bell's outside edge before his effort was caught by Australia skipper Michael Clarke at the slip. Bairstow would soon join him after an unimpressive hit from a low ball toss was returned to the grateful Aussie bowler.
Prior's unconvincing edged attempt was then caught by wicketkeeper Brad Haddin, sending the Sussex man out for six, reducing England's lead from 271-4.