Critics of ousted South Korean president Park Geun-hye have called for her arrest on Saturday (11 March) a day after she was permanently removed from the presidential office for her role in a corruption scandal.
Her opponents have also said they would protest in central Seoul demanding her arrest. "We demand the arrest of Park Geun-hye and the resignation of acting president Hwang Kyo-ahn," Choi In-sook, a spokeswoman for the protesters, told Reuters.
Prime Minister Hwang, a Park loyalist, took over as acting president after her 9 December 2016 impeachment. The ousted president is said to have colluded with her close aide Choi Soon-sil and sought monetary donations from big corporations for two of the latter's foundations.
Following the court's ruling on Friday, Hwang urged for the peace and promised that the presidential election, which has to be held within 60 days, would be smooth. The election commission was due to make an announcement on Saturday, Reuters reported.
Meanwhile, a group of protesters were setting up equipment for the rally in central Seoul early on Saturday. Some police officials were on the streets to maintain order.
The scandal-hit president was thrown out of office on Friday after eight justices unanimously agreed she should be removed.
The constitutional court's acting chief Lee Jung-mi said in her ruling: "The president marred the rule of law and representative democracy with her anti-constitutional, anti-legal deeds. She has betrayed the trust of the people". Park's actions amounted to "grave" violation of law, she added.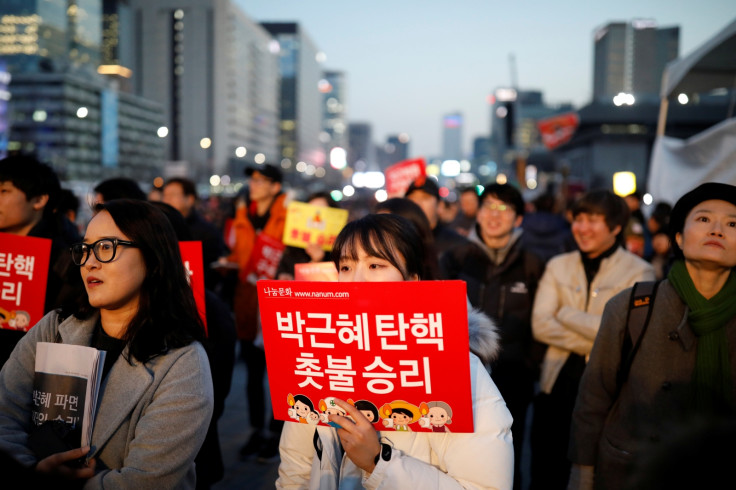 With Friday's ruling, Park became the first democratically elected leader of the country to be stripped off her powers. The ruling followed months of political paralysis and turmoil over the corruption scandal that also found the head of the Samsung Company in trouble.