A virtual reality headset requesting backing on Kickstarter is promising to deliver the world's first all-in-one portable VR head-mounted display thanks to a unique set of built-in speakers.
Targeting a relatively minimal funding goal of £40,000, the smartphone-powered Opto could one-up its opposition in the portable VR market, as its on-ear speakers negate the fiddly necessity of having to plug in external headphones on similar devices such as the Samsung Gear VR.
The Opto offers support for any mobile phone with a screen size between 4 — 5.5in, with the integrated audio seemingly a perfect fit for the ever-increasing number of VR applications available through the Google Play Store and Apple's AppStore.
The device itself certainly looks a little more comfortable than your average Google Cardboard-creation thanks to a chic, futuristic design built from strong but lightweight injection-moulded foam.
A magnetic cover that can be clipped on and off also hopes to resolve the bothersome issue of quick smartphone access, by offering a swift and simple mechanism that has been designed to allow the user to tap away on the phone while still nestled inside the headset.
Equally impressive is Opto's claim that the optics are built from a pair of extra-large lenses that are 25% larger than "other major VR headsets", although the main talking point is still its 40mm, 20khz custom twin-speaker set-up that promises an unparalleled, unfussy, on-the-go VR experience.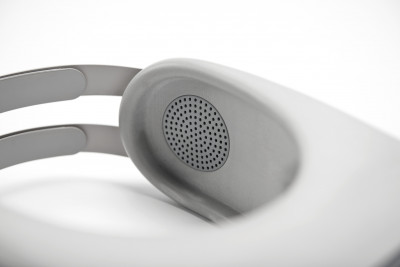 "Opto is about making high-quality VR accessible for anyone who owns a smartphone," said Opto co-founder Richard Stephens. "Our aim is to move VR from the gaming den into the living room."
With over £20,000 pledged at the time of writing and 18 days left to run on the campaign, it is looking very likely that the London-based company will achieve its initial crowdfunding target. The headset was initially designed to support mobile devices with screens up to 5.1in, however the influx of early pledges has encouraged the designers to up the size-quota to include the iPhone 6 Plus and 6S Plus.
If you would like to get your hands on your very own Opto, the standard edition is priced at £65 with an additional £10 UK shipping (costs vary worldwide) and has a current delivery estimate of October 2016. You can find the Kickstarter page here.